'Solomon Kane' Writer-Director Michael Bassett To Write And Direct 'Silent Hill: Revelation 3D'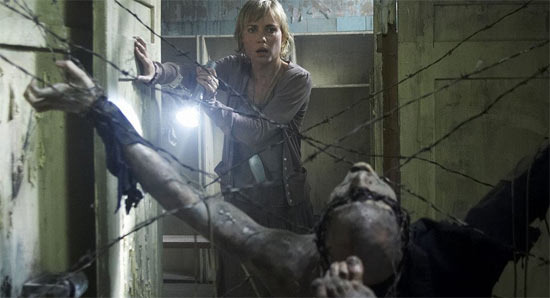 Silent Hill wasn't a huge success at the box office—domestically it failed to even gross beyond its $50 million budget—but apparently between its worldwide gross ($98 million) and DVD sales, it made enough that a sequel is now in order. The sequel, which has been given the title Silent Hill: Revelation 3D, is confirmed as being shot in 3D rather than post-converted (as should be the case with all productions from now on), and also has a writer and director on board to boot. Hit the jump to learn more.Bloody Disgusting is reporting that Michael Bassett, the writer and director of the sword-and-sorcery adaptation Solomon Kane, has been tapped to write and direct the sequel.
Here's a basic rundown of the plot as they describe it:
The sequel follows Heather Mason, along with her father, who have been on the run – always one step ahead of dangerous forces that she doesn't full understand, Now on the eve of her 18th birthday, plagued by horrific nightmares and the disappearance of her father, Heather discovers she's not who she thinks she is. The revelation leads her deeper into a demonic world that threatens to trap her in Silent Hill forever.
This is essentially the story behind Silent Hill 3, which also tied into the first game since Heather Mason's father was the protagonist of Silent Hill. They changed that for the film though, so it sounds like this sequel will be a stand-alone effort that just happens to take place in the same nightmarish town.
From what I saw of Solomon Kane at Comic-Con (and the early reviews certainly help validate my presumption), Michael Bassett seems like the right guy to try his hand at a Silent Hill sequel. The first film was dumb as hell, but also had a number of redeeming qualities—the visuals and atmosphere being the standouts. As long as Bassett can retain those, he isn't likely to do much worse.
Bleeding Cool has a quote from Bassett, taken from a blog post in which he appeared to be discussing the film:
Lots going on what could be/should be the next film. It's still nothing I can specifically talk about. Storyboard artists and concept folks putting some great stuff together but no start date. Thought we were going very soon but it's been delayed a little. This is how it works but boy, it drives me mad. I should make commercials or promos or something just to keep myself sane in these downtimes. Maybe find a nice TV show to help out on.
We'll see how things pan out. Hopefully they'll change the title. Revelation is one of those subtitles that's generally reserved for bottom-of-the-barrel DTV genre sequels that are completely devoid of creativity, such as Children of the Corn: Revelation, The Butterfly Effect 3: Revelations and the upcoming Hellraiser: Revelations. It's hardly comforting seeing it slapped onto the sequel to Silent Hill.