'Panic Room' Producer Gavin Polone Directing Thriller 'Psycho Killer' For Producer Eli Roth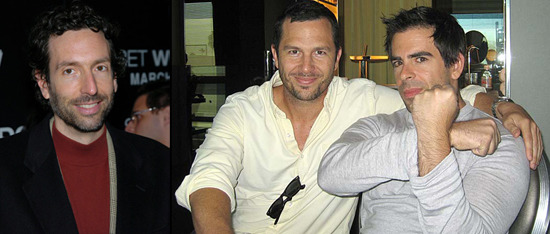 Gavin Polone has an extensive resume as a producer. He's been involved in a wide array of film and television, from Curb Your Enthusiasm and The Gilmore Girls to Panic Room, 8MM, Zombieland and the upcoming Premium Rush.
Now he's poised to take the director's chair for the first time. The film will be a thriller called Psycho Killer (I just heard David Byrne's attorney start to salivate) with Seven screenwriter Andrew Kevin Walker and The Last Exorcism producers Eli Roth and Eric Newman.
The Wrap reported on the new picture, saying the serial killer thriller " follows a nameless, masked murderer who leaves a trail of victims across the U.S. During a chance encounter in Nebraska, he slays a highway patrolman while his young wife, a fellow officer, watches from afar. She sets out to find the killer as he plans his next masterpiece — a mass murder that will guarantee him a triumphant entry into hell."
So: a significant but violent role for one actor, and a strong role for a young actress. The Wrap says the production is looking for someone established but who isn't yet a star. Can anyone read this part without having visions of Jodie Foster and Frances McDormand playing law enforcers on the trail of a killer?
And Andrew Kevin Walker is going back to serial killers. Let's hope Mr. Polone has learned more from watching David Fincher work on Panic Room than from his days on 8MM. What a disappointment the latter film was, though maybe if I went back to it now and didn't expect something along the lines of Seven it might take on a more favorable shine.
[photo of Eli Roth and Eric Newman from FilmReviewOnline]