LionsGate Picks Up 'Dredd,' 'Protection' And 'Safe'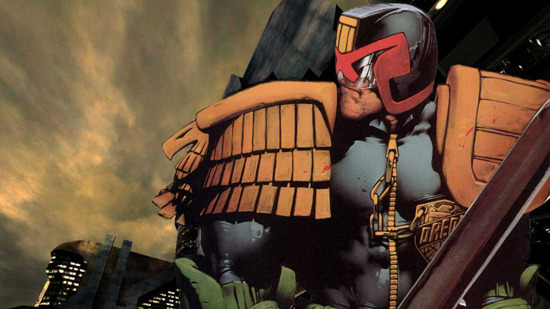 In advance of the American Film Market, LionsGate has picked up US distribution rights to three films: Dredd (based on the Judge Dredd comics), Safe and Protection. All three films are from financing/sales company IM Global. Info on all three films is after the break.
The first release will be Safe, directed by Boaz Yakin with Jason Statham starring; the film is in production right now. Basic info pegs Jason Statham as former agent of some sort who rescues a kidnapped girl and then "finds himself in the middle of a standoff between Triads, the Russian Mafia and corrupt New York City politicians and police."
Dredd will shoot starting on November 12 in South Africa, with Pete Travis directing Karl Urban in the title role. Most of the global distribution rights to Dredd were already sold, at the Toronto Film Festival. A previous IM Global press release had this info about the film:
DREDD takes us to the wild streets of Mega City One, the lone oasis of quasi-civilization on Cursed Earth. Judge Dredd (Karl Urban) is the most feared of elite Street Judges, with the power to enforce the law, sentence offenders and execute them on the spot – if necessary. The endlessly inventive mind of writer Alex Garland and the frenetic vision of director Peter Travis bring DREDD to life as a futuristic neo-noir action film that returns the celebrated character to the dark, visceral incarnation from John Wagner and Carlos Ezquerra's revered comic strip.
And Protection will shoot in March, with Simon West directing Dwayne Johnson. From the press release announcing the start of shooting:
Johnson will star as 'Hombre' in the $35 million budgeted, high-octane tale of a mercenary Mexico City security operative forced to smuggle the daughter of an under-threat, high ranking judge and the judge's chief legal counsel across the border while being pursued by corrupt cops, drug lords and white collar U.S. criminal forces.  With PROTECTION, Johnson continues the return to his action roots, having just completed filming CBS Films' FASTER, which is scheduled for release this November.
There are no release dates for any of the three films, but given that none are finished and two aren't even shooting yet, that's no surprise. [Variety]