Brad Pitt Negotiating A Role In Andrew Dominik's 'Cogan's Trade'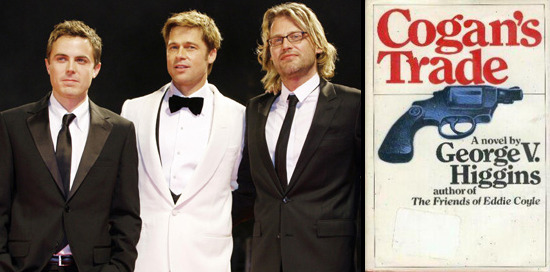 And the pieces start to come together. Not long ago, word came down that director Andrew Dominik and his The Assassination of Jesse James by the Coward Robert Ford star Casey Affleck were going to shoot a new 'Boston-based crime story.' At the time we didn't know what the story might be.
New info now indicates that the story is Cogan's Trade, with a script by Mr. Dominik. And it could be even more of a Jesse James reunion than we'd expected, as Brad Pitt, who played Jesse James for Andrew Dominik, looks ready to sign on.
Cogan's Trade would feature the actor as "Jackie Cogan, a professional enforcer who investigates a heist that takes place during a high stakes poker game under protection of the mob." So... something a bit like Ocean's Four, given the size of the cast we're seeing so far? Probably not quite; while there are some comic elements to the story, it seems to be a more serious affair. Although an Andrew Dominik comedy would be a fun thing to see.
Let's back up a moment. This morning, The Playlist put together info from a couple sources that suggested the new Dominick/Affleck project might be Cogan's Trade, based on the novel by the late George Higgins. Andrew Dominik apparently optioned the novel just this week, but The Playlist notes that he's written on spec before, so theorizes that he's been working on this while trying to secure the option.
Regardless, fast forward to twelve hours (or so) later, when THR reports that Brad Pitt has signed on, the film is being financed by Inferno, and will be shown off at the American Film Market this week. Other names mentioned by the trade as possible participants include Sam Rockwell, Mark Ruffalo and Javier Bardem.
So: which film happens first, Cogan's Trade or Blonde, the biopic of Marilyn Monroe starring Naomi Watts? The actress has said that Blonde would happen sooner or later, but right now, if Brad Pitt stays on Cogan's Trade, I'd bet on that shooting first, perhaps in early 2011 as we'd previously heard.
Here's the Amazon description of the novel, which positively gushes about it:
Cogan's Trade is the top-notch crime novel rated by the New Yorker as the "best" from "the Balzac of the Boston underworld." Crackling dialogue, mordant humor, and unremitting tension drive the suspenseful stakes of the game higher in Boston's precarious underworld of small-time mobsters, crooked lawyers, and political gofers as George V. Higgins, the writer who boiled crime fiction harder, tracks Jackie Cogan's career in a gangland version of law and order. For Cogan is an enforcer; and when the Mob's rules get broken, he gets hired to ply his trade—murder. In the gritty, tough-talking pages of Higgins's 1974 national best-seller, Cogan is called in when a high-stake card game under the protection of the Mob is heisted. Expertly, with a ruthless businessman's efficiency, a shrewd sense of other people's weaknesses, and a style as cold as his stare, Cogan moves with reliable precision to restore the status quo as ill-conceived capers and double-dealing shenanigans erupt into high-voltage violence.