This Week In DVD & Blu-Ray: Toy Story 3, Centurion, The Pacific
We may receive a commission on purchases made from links.
This Week in DVD & Blu-ray is a column that compiles all the latest info regarding new DVD and Blu-ray releases, sales, and exclusive deals from stores including Target, Best Buy and Fry's.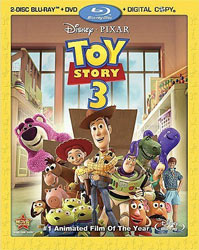 TOY STORY 3
(Blu-ray available as 2-Disc and Four-Disc Blu-ray/DVD Combo + Digital Copy)
How strongly Toy Story 3 resonates with you emotionally will depend almost entirely on the attachment you've built to the characters over the past two films. Unlike with those, the goal this time around wasn't to advance the characters in new and profound ways; it aims instead to provide heart-wrenching closure to a series that many—myself included—have grown up with and come to love. Sure, Toy Story 2 kind of already did that, but this entry tackles the theme of loss and abandonment much more head-on, in some startlingly bold ways. And as much familiar ground as Toy Story 3 treads, it does what it does so well that you'll probably just be happy to go on another thrilling adventure with these characters. I know I was.
Available on Blu-ray? Yes.
Notable Extras: DVD – Day & Night short, featurettes ("Toys!", "Buzz Lightyear Mission Logs: The Science of Adventure", "Paths to Pixar: Editorial", "The Gang's All Here", "A Toy's Eye View: Creating A Whole New Land") and a 3-part Studio Stories feature ("Where's Gordon?", "Cereal Bar", "Clean Start"). 2-Disc Blu-ray – Includes everything on the DVD, as well as commentary by Director Lee Unkrich and Producer Darla K. Anderson, an alternative commentary track featuring the leads, Tech, Art and Animation, and the following additional featurettes ("Beginnings: Setting A Story In Motion", "Bonnie's Playtime: A Story Roundtable", "Roundin' Up A Western Opening", "Life Of A Shot", "Goodbye Andy", "Accidental Toymakers", "Making of Day & Night"). 4-Disc Blu-ray – Includes everything on the 2-Disc Blu-ray, as well as a copy of the DVD and a digital copy of the film.
*Does not include 4-Disc Edition, which costs $24.99 at Target, Best Buy, Fry's and Amazon.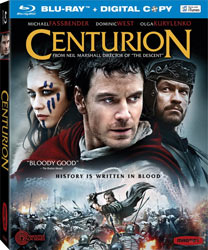 CENTURION
There's no overtly self-referential, winking homage in Neil Marshall's B-movie exploitation genre outings. He's a director fully committed to the low budget artistry of violence, blood flow and excessive removal of limbs, and his movies make no qualms about being the gratuitously bloody romps that they are. His success rate tends to vary from film to film, but forgiving some poor CGI blood, Centurion at least ranks as a step above the immediately forgettable Doomsday. As with all of Marshall's flicks, Centurion takes half the movie to settle on a central conflict, keeping the audience on its toes as the plot unfolds. It isn't a great film by any means—in many ways it doesn't even qualify as a good one—but it's gruesome, it's fun, and despite most of the characters being indistinguishable from one another, Michael Fassbender and Dominic West satisfy as protagonists, making the most out of their underwritten roles. Genre fans could do worse.
Available on Blu-ray? Yes.
Notable Extras: DVD & Blu-ray – Featurettes ("HDNet: A Look at Centurion", "Making of Centurion", "Behind the Scenes"), deleted scenes, outtakes, and interviews.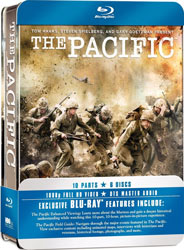 THE PACIFIC
The praise hasn't been as unanimous as it was for Band of Brothers or Saving Private Ryan, but there's still a lot of love for The Pacific, HBO's critically acclaimed, Emmy Award winning 10-part television wartime miniseries. The show intertwines the stories of three Marines during America's battle with the Japanese in the Pacific during World War II. Here's the trailer, which highlights the stunning production values of the series.
Available on Blu-ray? Yes.
Notable Extras: DVD – Portraits of the real Marines featured in The Pacific, a 30-minute Making The Pacific featurette, and an Anatomy of The Pacific War documentary on the events that influenced the merciless brutality in the Pacific theater. Blu-ray – Includes everything on the DVD, as well as an enhanced viewing picture-in-picture mode, and a Pacific Field Guide which includes animated maps, interview with historians and veterans, historical footage, photos, and more.
EXCLUSIVE DEAL:
What? Exclusive Bonus Disc ("War on the Homefront") with purchase of DVD or Blu-ray.
Where? Target.
EXCLUSIVE DEAL:
What? Exclusive Bonus Disc ("The Battle of Peleliu") with purchase of DVD or Blu-ray.
Where? Best Buy.
Other noteworthy DVD (and Blu-ray) releases this week...
Noteworthy Blu-ray-specific releases this week...
The Goonies (25th Anniversary Edition) – The Sound of Music (45th Anniversary Edition) – The Bridge on the River Kwai – Highlander (Director's Cut) – Chitty Chitty Bang Bang – White Christmas

NOTES: Some deals may vary by store. Some deals may be in-store only. All deals are for DVDs unless otherwise noted.

Exclusive: Limited Edition of The Sound of Music includes 24-page book with rare photos and more...

$12.99 – Blu-ray sale: Killers, Daybreakers, From Paris with Love, Gamer
$3.99 – Jaws, Uncle Buck, Training Day, The Assassination of Jesse James by the Coward Robert Ford

$14.99 – Blu-ray sale: Frozen, Brooklyn's Finest, Solitary Man, The Crazies, Law Abiding Citizen, Psycho, Unleashed, Mercury Rising, The Skeleton Key, Alpha Dog, Friday Night Lights, Carlito's Way, The Bourne Ultimatum