Rumor: Charlize Theron, Vera Farmiga And Kacie Thomas In Contention For 'The Dark Knight Rises'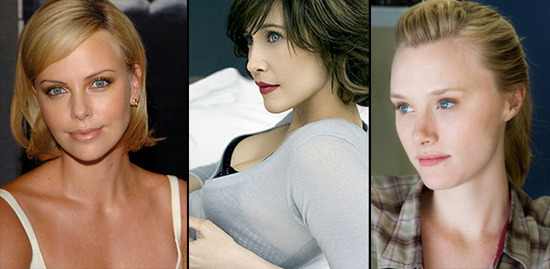 Slow news day, more rumors. This time the wheel has come back around to The Dark Knight Rises, with word that three actresses have either been offered or auditioned for roles in Christopher Nolan's film. The rumor is good as a conversation starter more for the characters specified than for the names that are very tentatively attached to the roles.
Take this with a truck full of salt, but the rumor goes that Charlize Theron has been offered the role of Sarah Essen, and that Kacie Thomas and Vera Farmiga have auditioned for the role of Julie Madison. Why would those characters be noteworthy?
CBM has the rumor, and not much else. (Supposedly it comes from an unspecified agency source.)
Sarah Essen was invented by Frank Miller and David Mazzucchelli as part of their Batman: Year One storyline, and is an officer with whom Jim Gordon (Gary Oldman) has a brief affair. In a later appearance, she and Gordon married. If she ends up in the film, that would suggest that we'll see a bit more substantive material for Gordon as well, and that's a good thing. Gary Oldman will love having meatier scenes, and I'd love to see him play them. And, sure, Charlize Theron would be right for the character.
Julie Madison, meanwhile, appeared in Detective Comics right after Batman made his own first appearance in the late '30s. At the time, the character was engaged to Bruce Wayne and unaware of his alter-ego. She was menaced by the actor Basil Karlo, the first incarnation of Clayface, so the rumor of the character's inclusion in the script for The Dark Knight Rises is already leading to speculation that Clayface will appear as well.
Julie Madison has been revived in the comics a few times, including a couple of appearances where she was written by Matt Wagner. That incarnation seems to have slightly informed the Rachel Dawes character from Christopher Nolan's first two Batman films. (Julie Madison has appeared onscreen, too, played briefly by Elle McPherson in Batman & Robin.) I love the idea of Vera Farmiga as a strong romantic lead, but again: we're still in rumor town, so don't get too attached to the idea.