Watch Terry Gilliam's Short Film 'The Legend Of Hallowdega'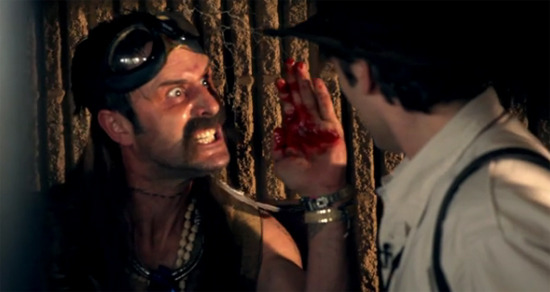 It's a strange world. If you'd told me that one day I'd be watching Dale Earnhardt, Jr. introduce a short NASCAR film directed by Terry Gilliam, I can't imagine I'd have taken the idea seriously. And yet here's the online presentation of The Legend of Hallowdega, an 18-minute film in which the secret, possibly spooky past of the Talladega Speedway is explored. Seriously.
Let's go to the full synopsis from the official site:
For decades legend and lore have swirled around the 2.66 miles of asphalt that make up racing's fastest track — Talladega Superspeedway. This Halloween, in celebration of the AMP Energy Juice 500 at Talladega on Oct. 31st, the world will learn the "truth". This original short film, presented by AMP Energy Juice, is directed by Terry Gilliam and stars David Arquette & Justin Kirk, with special appearances by Dale Earnhardt Jr., Darrell Waltrip and many more.
It takes about five minutes for some signature Terry Gilliam manic energy to kick in, but it's definitely there. This isn't exactly the film we'd love to see out of the director, but what the hell — guy's got to keep working. And after trying to get The Man Who Killed Don Quixote made a second time only to see the financing collapse again, you've got to figure when the offer came in to walk on and direct this film, Mr. Gilliam  just said 'why not?' and went for it.
Below is an excerpt, as the full film isn't embeddable for now. Hit the official site for the full thing, as well as a great deal of behind the scenes footage, including some absurdity with Terry Gilliam.