First Look: Emma Stone In 'The Help'; John Krasinski In 'Something Borrowed'; Woody Harrelson In 'Rampart'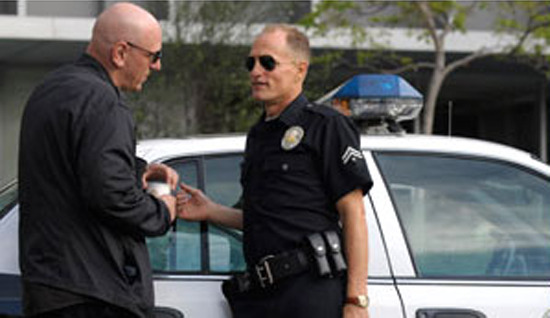 In addition to offering up quite a few new images of Captain America, the latest issue of Entertainment Weekly has first looks at many other films. There's the first image from The Help, starring Viola Davis and Emma Stone in what is sure to be one of the prestige pictures of fall 2011. There are also new images from Something Borrowed, starring John Krasinski and Kate Hudson, and even an on-set image, enlarged above, from Oren Moverman's Rampart, which stars Woody Harrelson and Ice Cube. More info and pics after the break.
Here's the shot from The Help; the image features a blonde Emma Stone and Allison Janney looking over her shoulder.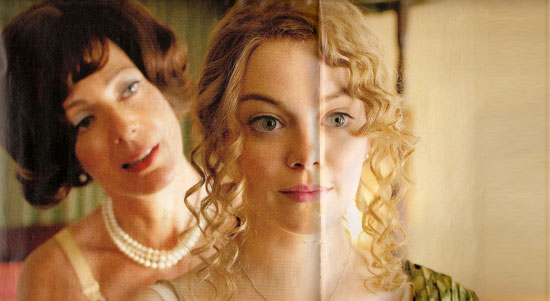 Tate Taylor directs the adaptation of Kathryn Stockett's novel, in which a young college grad (Emma Stone) is researching a book about African-American house servants in early '60s Jackson, Mississippi. Allison Janney plays her mother, and Viola Davis plays Aibileen Clark, a maid that proves to be a key interview for the book. Bryce Dallas Howard, Sissy Spacek, Jessica Chastain, Octavia Spencer and David Oyelowo are also in the cast.
And here's the shot from Something Borrowed, a film in which Ginnifer Goodwin plays a New York attorney who becomes involved with the fiancé (Colin Egglesfield) of her best friend (Kate Hudson).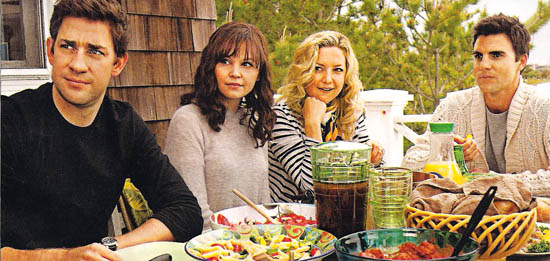 Luke Greenfield wrote the script based on Emily Giffin's novel, and he directed as well.
And, to recap info about Rampart, that reunites The Messenger director Oren Moverman with the star of that film, Woody Harrelson. Here, Mr. Harrelson plays a cop in the LAPD's Rampart division, which was the subject of investigations of corruption in the '90s.
[page scans via The Playlist]