Cool Stuff: 'Dead Alive,' 'Beetlejuice' & 'Four Lions' Prints On Sale Tuesday; Wes Anderson Prints On Sale Now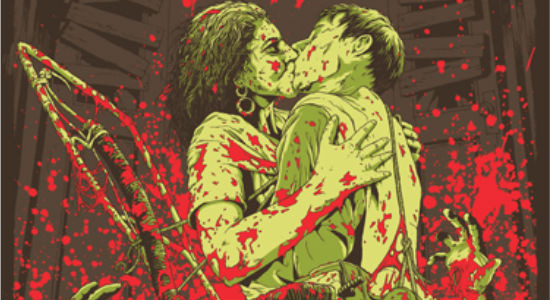 See that large blank spot on your wall? This week is a great time to fill it with a limited edition movie themed print. Mondo has a few posters for movies that haven't been interpreted much like Peter Jackson's Dead Alive, Tim Burton's Beetlejuice and Chris Morris' Four Lions (which we exclusively premiered here). Then, several of the prints we highlighted from the Wes Anderson themed Bad Dads show at the Lopo Gallery in San Francisco are either on sale now or going on sale later this week, including full sets by Kevin Tong and Tim Doyle. More details after the jump.
The Wes Anderson prints are all available at SpokeArt and are going on sale sporadically throughout the week. As of Monday evening, they have a handful up for sale – including some awesome ones by Kevin Tong – which you can also buy as a set. In addition, you can buy a set of five Tim Doyle prints at a discounted price but those don't go up separately until Wednesday. Head over there to see what's available and when it might go on sale.
And since we haven't seen some of the Mondo prints, before, we'll show you those individually.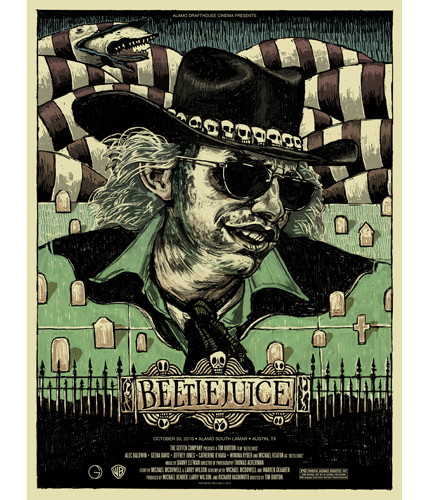 Beetlejuice by Rich Kelly
18"x 24" screen print. Hand numbered. Edition of 150
$30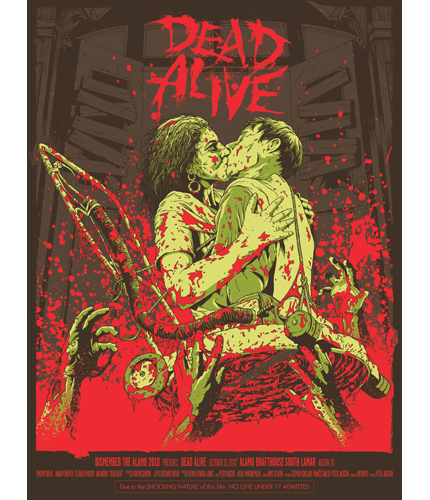 Dead Alive by Adam Haynes
18"x 24" screen print. Hand numbered. Edition of 95.
$30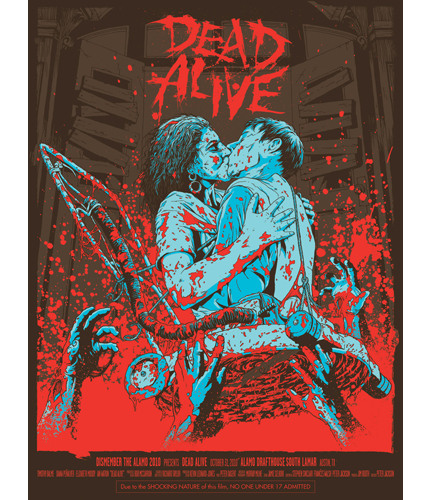 Dead Alive Variant by Adam Haynes
18"x 24" screen print w/ glow in the dark ink. Hand numbered. Edition of 45
$45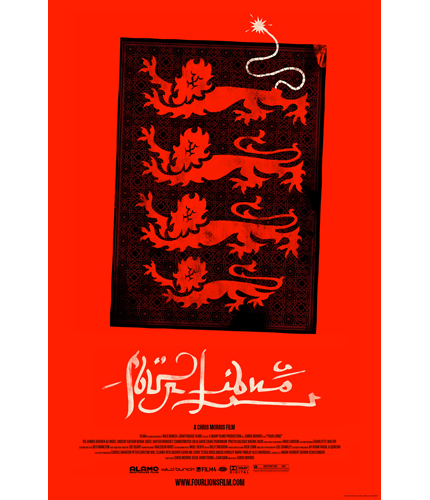 Four Lions by Olly Moss
16"x 24" screen print. Hand numbered. Edition of 250.
$30
Those will all go on sale Tuesday at a random time. Follow @MondoNews on Twitter for the announcement.
Collecting prints like these has been my primary obsession for some time now. I have about 40 all over my room and many more throughout my apartment so, I love writing about them. Out of curiosity, do you like reading about them and does anyone ever take a post like this and use it? I really hope so.