Cool Stuff: Jacob Borshard's Back To The Future-Inspired D.V.E.T.F.T.P.V. Poster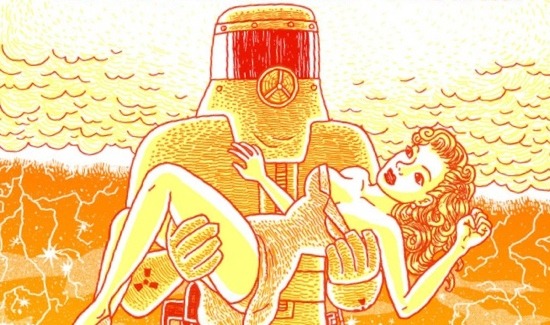 Nakatomi has released an interesting Back to the Future-inspired art print. "D.V.E.T.F.T.P.V." is a creation of Jacob Borshard, and is available in both 2D and red/blue 3D.
Outer Space Destiny! He comes at night to melt your brain! He won't get his damn hands off her! Jacob Borshard's newest blast from the past is this time and space bending one sheet from the seminal 1955 Sci-fi cult classic.  Well, maybe it doesn't exist in our reality per se, but it IS a classic in the time paradox Jacob promises to create as soon as he gets a new fuel pump for his DeLorean. But that's not all!  Jacob has outdone himself by literally cheating the laws of physics to create a print that pops out in three dimensions!  Simply view this print with standard Red/Blue 3-d glasses and your brain will melt in amazement and wonder as reality multiplies in lifelike Depthovision!  Yes, depth!  You've never seen anything like it!
The two-color 18? by 26? print is available for $25  in an edition of 55 artist-pulled signed and numbered 3-d prints (which include a pair of 3D glasses). The non 3D standard print is being sold for $25 and is 3 colors, an edition of 88 artist-pulled signed and numbered prints. See both designs after the jump.
3D Version:
2D Version: