Wes Anderson And Noah Baumbach Producing New Peter Bogdanovich Film, 'Squirrel To The Nuts'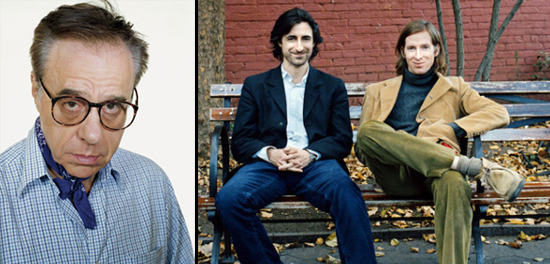 I'm still waiting for Peter Bogdanovich to fulfill the mandate handed him by the late Orson Welles to finish the legendary director's final film, The Other Side of the Wind. But that film is the victim of a long list of legal and technical troubles, so I can forgive him for the decades the project has taken.
In the meantime, let's be content with a new film from Mr. Bogdanovich. His last theatrical dramatic feature was the decent The Cat's Meow in 2001, but now he's working on a new picture, Squirrels to the Nuts (ahem), with Wes Anderson and Noah Baumbach co-producing. OK, he's got my attention.
In an interview with The National Post (via The Playlist) Peter Bogdanovich described the film as "a screwball comedy about an escort, a theatre director and a private detective."
Other comments by the director make it sound as if getting this one going hasn't been so easy.
I never left the director's chair, but America's what Gore Vidal calls 'the land of amnesia.' In France, you direct a movie and you're treated like a king for the rest of your life. In America, you're only as good as your last picture.
Hey, we just acknowledged his last picture! But we're not offering up funding for this one. (I would if I could; the man who made The Last Picture Show will always be worthy of funding, as far as I'm concerned.)
The idea of a new screwball comedy from the director is attractive, too. It's a difficult genre that is rare to find in the wild these days. But he's got some facility with it. And Wes Anderson and Noah Baumbach, each of whom bears more than a slight Bogdanovich influence, could prove to be valuable collaborators, on that front.
Here's the opening of a wonderful conversation between Peter Bogdanovich and Wes Anderson talking about They All Laughed.