'The Goonies' Sequel Doubtful, But A Musical Is In The Works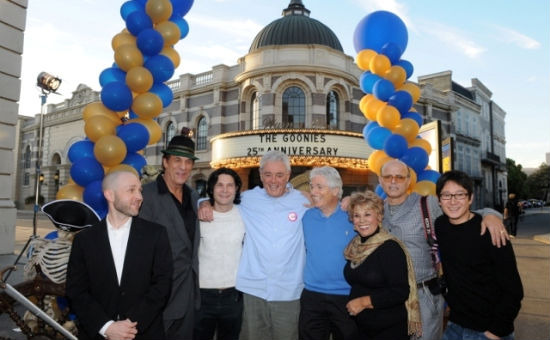 With all the 25th anniversary Back to the Future hoopla recently, one film that has been grossly overshadowed is The Goonies. The classic Richard Donner directed, Steven Spielberg produced adventure story is also celebrating its silver anniversary in 2010 with a brand new Blu-ray release on November 2. To commemorate the occasion, Warner Brothers held a special anniversary event on their lot in Burbank, CA and stars Corey Feldman, Jeff Cohen, Jonathan Ke Quan, Robert Davi, Lupe Ontiveros, Joe Pantoliano as well as casting director Mike Fenton and Donner were on hand to discuss the film. Of course, much of the talk centered on the possibility of a sequel and then Donner mentioned that not only might The Goonies become a musical, there's actually already a treatment out there. We're got more after the jump.
Collider caught up with all the principals at the press event and got the latest dish on the sequels and this musical.
Here's what Richard Donner had to say about trying to get the sequel going, and eventually moving the story to Broadway. The first sentence of this quote doesn't exactly make sense, but you get the jist.
We were thinking that (the sequel) for years back, couldn't do it. Felt like everything we were doing would hurt what we had with the original, hence the musical. But Steven (Spielberg) said something the other day to me that he and Chris (Columbus) were talking about and maybe something — but I don't think there'd be a sequel. I wouldn't remake it. If anything it'd be something new and fresh. Hopefully we're doing this as a musical on Broadway. It took forever to get on Broadway. It was a long, long process but it just got a lot shorter because there's a great writer/producer (Tim Long) who does musicals on The Simpsons which are classic. He just delivered a treatment on 'Goonies' as a musical and it's friggin' great.
That's so refreshing to hear. At a certain point, a sequel might do more harm than good when it comes to the legacy of the original film. Bravo, Richard Donner. On the other hand, a musical could simultaneously pay homage to the film while adding new material. I think that's a great idea, especially if Cyndi Lauper is a part of it. And as a Goonies fan, the fact that it's already in the works just makes my imagination run wild. Who cares that most of these things never see the light of day?
The Collider article also has more quotes from the stars about the sequel, basically saying that if it was going to happen, it would have already and that all the various scripts just never came together. Head over there to read more about those.
But I'm more interesting in something Goonies that might actually happen, the musical. Do you agree with me that a musical is a better idea at this point? Or are you still fixated on a reboot of The Goonies with new kids and cameos from the original cast?