Sequel Updates: Tony Scott On 'Top Gun 2' And Robert Zemeckis On 'Roger Rabbit 2'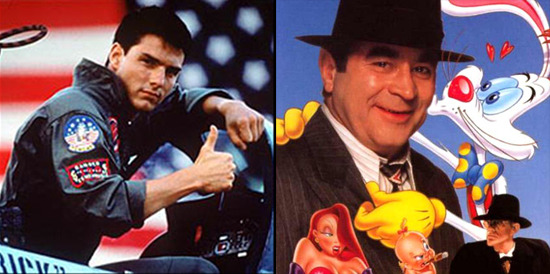 Even as a kid, two films I never thought I'd see sequels to were Top Gun and Who Framed Roger Rabbit? Both Eighties hits certainly could have continued with their storylines but there wasn't a need because each wrapped up in a cohesive and satisfying way. In fact, if it wasn't for each film working so well, neither would have reached the "New Classic" status they currently enjoy. But of course, in today's no-new-idea Hollywood, each film is getting sequelized over twenty years after release and the only thing fans can hang their hat on is that the original filmmakers – Tony Scott and Robert Zemeckis – are part of the process. Both recently spoke about the very latest on each film and when you get to hear from the big men themselves, it's worth listening. We've got the updates after the break.
Both updates come to us from MTV Movies. We'll start with Top Gun 2.
MTV Radio spoke with Tony Scott, now on the publicity trail for his new film Unstoppable starring frequent collaborator Denzel Washington and Chris Pine. You can hear his thoughts on Top Gun 2 below, or just skip the video to read his quotes. He talks about the direction the film would take in our modern world.
Here's what Scott said above about Top Gun 2:
It's not even a reinvention, it's not even a sequel. It's a re-thinking. What inspired me is that the world today is great, it's so different from the world we touched originally. It's really run by guys sitting in Nevada on computers playing war games. So it's a mixture of that, and it's the end of the generation of fighter pilots. Not in a complete end to the generation, because these guys they go up in F-35s and they carry 10 drones with them. [But] it's a very different movie.
Not in the clip is a follow up question about the possible inclusion of Val Kilmer and Tom Cruise. Previous reports from screenwriter Christopher McQuarrie (The Usual Suspects) have said that Maverick is the main character and Cruise himself has brushed off questions.
I'm gonna withhold that information. I can't say anything. I'm talking with Jerry [Bruckheimer], and I'm going to withhold [those other details].
Next up is Roger Rabbit 2. Last we heard, director Robert Zemeckis had a great idea, hired the original writers, Bob Hoskins was interested in reprising his role, Zemeckis wanted to use performance capture but the 2D cartoons would remain 2D.Once again, MTV Movies caught up with Zemeckis at the release party for the Back to the Future Blu-rays and asked him about the latest.
As most great filmmakers tend to be, Zemeckis was short but sweet, choosing his words carefully.
If you don't have video watching abilities, Zemeckis said that screenwriters Jeffrey Price and Peter Seaman are still writing the script but "They're slow." He then said he has read some of it and that "It's great. Oh, it's going to be great. I think it's going to be great."
"Slow" and "great." Thanks Bob. Now go back to Yellow Submarine.
Do you think either of these sequels will live up to the original films? Do you at least feel safe in the thought that Scott and Zemeckis are on board with each?