New Posters: Peter Weir's 'The Way Back' And John Cameron Mitchell's 'Rabbit Hole'

Two good-looking posters recently hit for a couple of the fall's more promising arthouse pictures. Both The Way Back and Rabbit Hole have some great early reviews out of festivals and screenings. Now each has a poster to call its own, and you can see both after the break.
Here's the poster for The Way Back, which comes via In Contention. I'm really looking forward to this one. The trailer looks great, and Peter Weir has rarely disappointed over the course of a long career. I can forget about Green Card, because I get so jazzed every time I see The Last Wave, Master and Commander and plenty of his other films.
The prison escape adventure stars Colin Farrell, Jim Sturgess, Ed Harris and Saoirse Ronan. Here's the synopsis again:
When they escape a Siberian labor camp in 1940, seven courageous multi-national prisoners discover the true meaning of friendship as their epic journey takes them across thousands of miles of hostile terrain en-route to India and their freedom.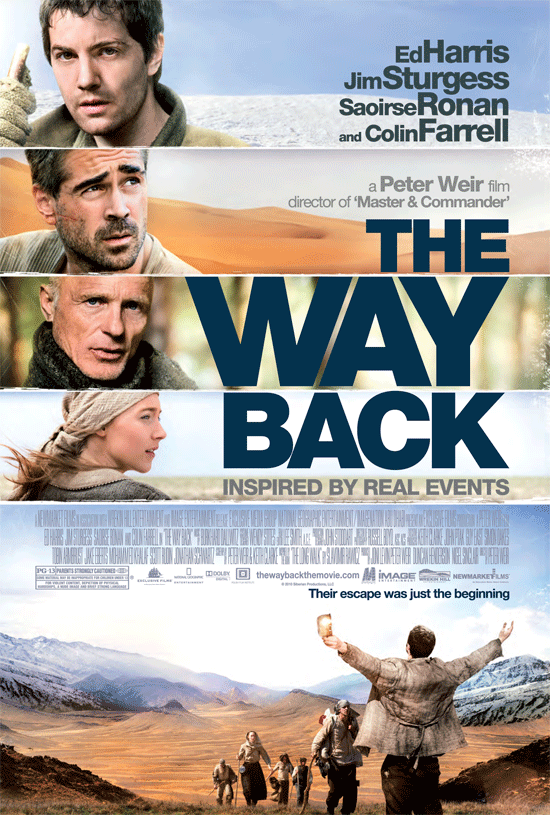 Next up is Rabbit Hole, the trailer for which was one of the more crushing things I've seen in a while. But festival reviews have heaped praise upon the new film from John Cameron Mitchell (Hedwig, Shortbus) and even though I expect to be destroyed by the movie I'm eager to see it.
Here's the extensive synopsis. The poster follows.
RABBIT HOLE is a vivid, hopeful, honest and unexpectedly witty portrait of a family searching for what remains possible in the most impossible of all situations. Becca and Howie Corbett (NICOLE KIDMAN and AARON ECKHART) are returning to their everyday existence in the wake of a shocking, sudden loss. Just eight months ago, they were a happy suburban family with everything they wanted.  Now, they are caught in a maze of memory, longing, guilt, recrimination, sarcasm and tightly controlled rage from which they cannot escape.   While Becca finds pain in the familiar, Howie finds comfort.
The shifts come in abrupt, unforeseen moments.  Becca hesitantly opens up to her opinionated, loving mother (DIANNE WIEST) and secretly reaches out to the teenager involved in the accident that changed everything (MILES TELLER); while Howie lashes out and imagines solace with another woman (SANDRA OH). Yet, as off track as they are, the couple keeps trying to find their way back to a life that still holds the potential for beauty, laughter and happiness.  The resulting journey is an intimate glimpse into two people learning to re-engage with each other and a world that has been tilted off its axis.