Rumor Control: Keith Richards Not Cut From 'Pirates Of The Caribbean: On Stranger Tides'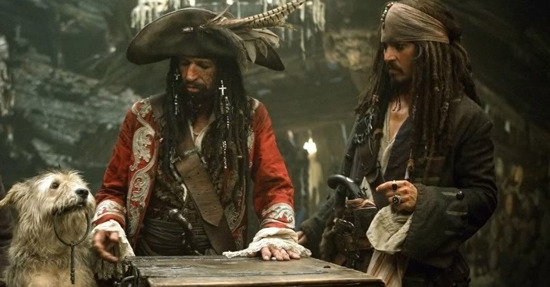 We ran two pretty silly rumors the other day, and now both have (thankfully) been debunked. One was that LucasFilm was ready to announce that the Indiana Jones films would be converted to 3D. LucasFilm was quick to deny that one, to the surprise of exactly no one. Conspiracy theorists can feel free to maintain that a denial is exactly what they expected, but I'll take the company's word for now.
The other rumor is that, thanks to the discussion of drug use in his new book Life, Keith Richards would be cut from Pirates of the Caribbean: On Stranger Tides. Disney was pretty quick to deny that one, too, even taking to Facebook to make an announcement, which is after the break.
A Disney rep said,
Fear not Pirates fans, we are happy to confirm that Keith Richards will be returning as Captain Teague in Pirates of the Caribbean: On Stranger Tides, setting sail May 2011!
So rest easy: Pirate Keef will be back on screen, and in 3D. If you want to see a scene where fictional Keef does a snoutful of drugs as enthusiastically as represented in the book, you'll have to look to back issues of Cerebus. (Sadly, I can't find a scan of those pages; only this cover featuring Mick Jagger.)
Here's the synopsis for the fourth Pirates film, which hits theaters on May 20, 2012.
In this action-packed tale of truth, betrayal, youth and demise, Captain Jack Sparrow crosses paths with a woman from his past (Penelope Cruz), and he's not sure if it's love–or if she's a ruthless con artist who's using him to find the fabled Fountain of Youth. When she forces him aboard the Queen Anne's Revenge, the ship of the formidable pirate Blackbeard (Ian McShane), Jack finds himself on an unexpected adventure in which he doesn't know who to fear more: Blackbeard or the woman from his past.
[via Cinematical]