'Captain America' Photos Reveal More Costumes And Hugo Weaving As The Red Skull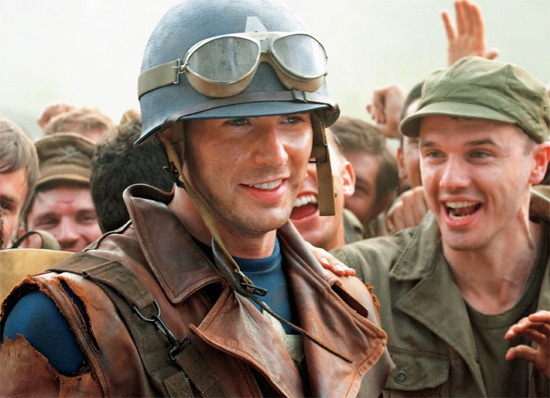 Update: High resolution uncropped versions of these photos are now online – click here to see them.
This morning we saw the new cover for Entertainment Weekly, which had the first photo of Chris Evans in the hero suit for Captain America: The First Avenger. Now the rest of the photos from within the issue have appeared online, and they show some great stuff. Check 'em out after the break.
Below you'll see images of a couple different Captain America suits (love the triangle shield) and Hugo Weaving as the early incarnation of the Red Skull. How great is his Hydra uniform? Love it. When we saw footage at Comic Con I was surprised at how great and fun the vibe was, and these photos really capture the same tone. [CBM]