Aubrey Plaza Attached To 'The Hand Job'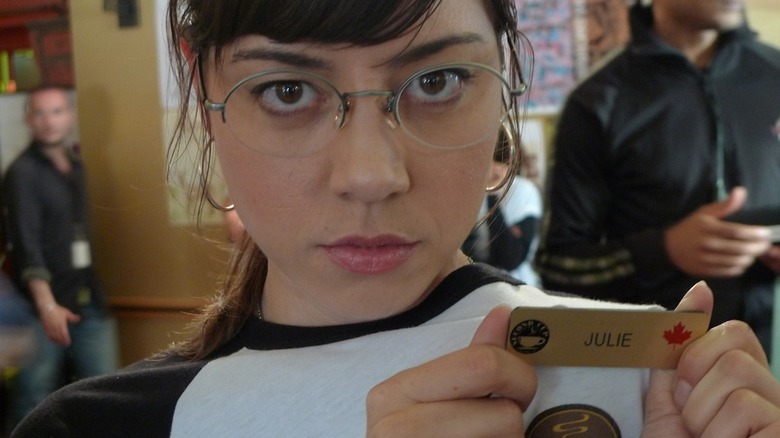 Aubrey Plaza doesn't have the longest resume on the block yet, but with each progressive role she continues to make a whole generation of young men swoon. She first hit the scene as Daisy, the cute stand-up comedian next door in Judd Apatow's Funny People and also played the female lead in the underrated (except here on /Film) comedy Mystery Team. Off the strength of those performances, Plaza became a regular on NBC's Parks & Recreation playing April Ludgate, the hilariously lazy and deadpan office assistant and most recently, she had a short but sweet role as Julie Powers in Scott Pilgrim vs. The World. Maybe you've heard of it.
Now Plaza is attached to a buzzed about female teen sex comedy script called The Hand Job written by Maggie Carey and it sounds like, if and when it gets made, it could make Plaza big in the way films like Superbad and American Pie made household names of some of her male counterparts. Read more after the jump.
Cinematical attended a live script reading of The Hand Job at the Austin Film Festival earlier this week and they mentioned that Plaza is attached to play the lead role in a film version. She was in attendance to read her part, along with a whole slew of famous actors who are not attached to the film, but just happened to be in town including Jessica Alba, Bill Hader, Colin Hanks, Daryl Sabata, Alexa Vega and more. They were all there just to act out The Hand Job, which was on the 2009 Black List, a very insider industry list created of some of the best screenplays flying around Hollywood.
In the script, Plaza will play a high school graduate who decides she needs to get a whole bunch more sexual experience before going to college. Sounds like a female Superbad and, according to Cinematical, the raunchiness and humor makes it almost exactly that.
Making The Hand Job even cooler is the fact that it's a period piece, set in 1993. However, the script still has yet to be picked up. Hopefully Plaza's commitment to the project, and the recent reading, will inspire some producer to spend some money and get this thing made. It sounds like a winner.
What do you think about the combination of Plaza and raunchy sex comedy? Am I the only one who is head over heels for her?