Willem Dafoe And Sam Neill Starring In Australian Thriller 'The Hunter'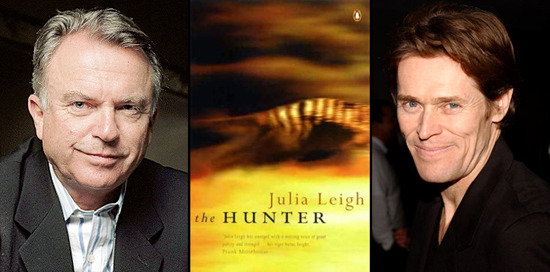 As I understand it, Julia Leigh's novel The Hunter is doing quite well in Australia. Ostensibly about a search for the last Tasmanian tiger, the thriller has a bit more going on than that. A film has gone into production this week under the direction of Daniel Nettheim, and it has a great cast, including Willem Dafoe, Sam Neill and Frances O'Connor. More details after the break.
THR reports on the adaptation of the novel, saying that the cast also includes Morgana Davies, Jacek Koman, Dan Wyllie, Sullivan Stapleton, John Brumpton, Callan Mulvey and newcomer Finn Woodlock.
Daniel Nettheim has been a TV director for some time, but he had a feature called Angst in 2000. I've not seen that one, but the fact that he's got this core trio suggests some promise for The Hunter.
When first reading about the story I envisioned it leaping off from a classic premise — maybe something a bit like The Ghost and the Darkness, at least in tone. But it's called a thriller for a reason, and not in the way The Ghost and the Darkness was. Here's the synopsis of the book, but beware: this might give away a bit more than you want to know. (In all fairness, I think the stuff I'm considering possibly spoilerish is well-known in Australia, and will probably be given away in the eventual trailer.)
[The Hunter] describes the deadly search for the fabled, and perhaps extinct, Tasmanian tiger, aka the thylacine. A mysterious man who is identified to the reader only as M assumes the identity of "Martin David, naturalist" and arrives at the filthy, disheveled house of depressed Lucy Armstrong, whose husband, Jarrah, a naturalist and bioethics expert, recently disappeared on the plateau. Lucy's home becomes the base for M's treks into the wilderness, ostensibly to study the habits of Tasmanian devils. In fact, and in secret, M works for a biotech company. His mission: to secure genetic material from what may be the world's last remaining thylacine, reportedly sighted on the plateau. M must hide his true occupation from Lucy and her lonely children, Sass and Bike, as well as from the National Parks researchers and the suspicious local townspeople.
(Note: this is a totally different film from the comic adaptation The Hunter on which we reported last year.)