Tom Cruise Offered Supporting Role In Film Version Of Musical 'Rock Of Ages'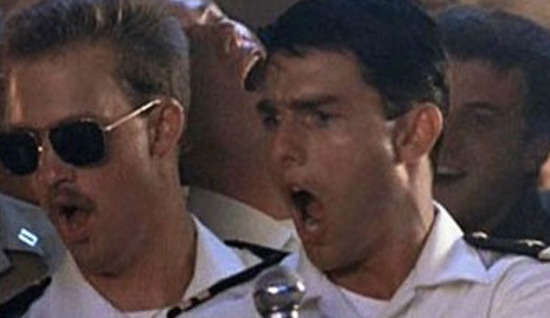 There's been talk of late about a remake of The Rocky Horror Picture Show, the cult film which adapted a stage musical of the same name. Given the current popularity of Glee I can see why studios might be thinking it's time to dip back into the musical well. But there have to be better options to create a musical hit than trying to replicate and expand upon the cult popularity of Rocky Horror.
One option might be a film version of Rock of Ages, the slightly goofy, cheeky stage musical in which performers regularly break the fourth wall as they perform and adapt classic '80s glam and hair metal songs. Indeed, a film is in development, and word is now that one of the supporting roles has been offered to Tom Cruise.
Deadline says this is just an offer for now, and I wouldn't be at all surprised to hear that the actor turns it down. But after the popular success he had with an exaggerated comedic role in Tropic Thunder, this might be exactly the sort of role that would provide a good popularity boost.
(The career of Tom Cruise isn't as close to dead as some would like to claim. But he remains a draw overseas, he isn't nearly as popular in the States as he once was.)
The site says that Tom Cruise has always wanted to do a musical (hearsay, but OK, fairly easy to believe) and the simple truth is that with audio tech as it is today, his real singing ability doesn't even have to matter. And, if the role is a comedic one, not being the best singer might work, too.
So who might he play? He could be Dennis, the owner of Hollywood club The Bourbon Room, where the central characters meet and begin their hopeful climb to rock stardom. Dennis eventually gets to duet on REO Speedwagon's 'Can't Fight This Feeling,' and that would be funny. (Probably wouldn't happen, though, because that's almost a gay coming out scene.) Or he could be Hertz, the German developer who wants to demolish The Bourbon Room along with the rest of the dingy Sunset Strip. Not sure which songs he has, though.