Oakley To Release $150 'Tron Legacy' 3D Glasses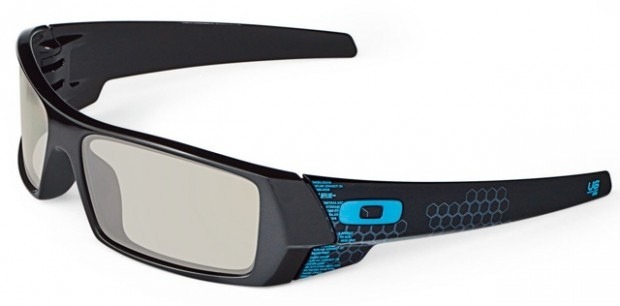 Sunglass company Oakley has announced that they will be producing a tie-in for Disney's Tron: Legacy, a pair of Limited Edition 3D Gascan eyewear featuring Tron-styled graphics on the side frames. How much do they want you to pay for these glasses? $150! Why are the glasses worth so much money? Find out after the jump.
Here is an excerpt from the press release:
To engineer Oakley 3D eyewear, Oakley combined its industry-leading frame innovations with lens technologies that maximize the 3D experience by offering unprecedented levels of clarity and visual fidelity. "TRON" Limited Edition 3D Gascan features HDO-3D™, a collection of proprietary lens innovations that have achieved the first optically correct 3D eyewear on Earth. Oakley 3D lenses virtually eliminate the ghosting or "crosstalk" between images that reach each eye from one moment to the next, a potential problem with inferior 3D eyewear.
A second key difference between Oakley 3D eyewear and conventional designs is the lens curvature. Greater curvature around the eyes provides a wider field of view, but without highly precise optics, even a mild curve can cause visual distortion. Oakley technology maintains optical clarity so the wearer can enjoy a wide field of sharp vision. The curvature of Oakley 3D lenses has the added benefit of minimizing distracting glare. A special rendition of a popular Oakley sunglasses frame, 3D Gascan is designed with a proprietary Three-Point Fit to retain the lenses in precise optical alignment. The fit optimizes comfort by eliminating the unbalanced pressure points common with ordinary frames. Oakley's durable yet lightweight frame makes contact only at the sides of the head and bridge of the nose, and it does not hook the ears like conventional frames made with curved earstems.
Sounds good but it's not enough to make me plunk down $150 bucks. Especially being in Los Angeles where many of the theaters use different 3D technologies (for example, the Arclight uses ExpanD while the other theaters use RealD or Dolby). I wouldn't mind paying for an affordable pair of prescription 3D glasses as many of the standard form factors don't work well with people, like myself, who already wear prescription glasses.I see enough movies it would be worth it, but even then the different 3D formats would not allow me to have one pair that works at all the 3D screenings. And buying three different pairs would be even more costly and... well, stupid.
Oh, and that's not all, for $150 you also get a carrying case:
Rendered with signature Oakley style, the new "TRON" Limited Edition 3D Gascan is accented with graphics that salute the cinematic story. A custom Microclear™ bag will be included for lens cleaning and eyewear storage. In the spirit of making this eyewear edition a collectible, the Microclear bag is also highlighted with graphics inspired by the film.
The glasses are scheduled to be available in November, giving you time to buy them before Tron Legacy's December release.