Casting Notes: Eugene Levy In 'Goon'; Angela Lansbury In 'Mr. Popper's Penuins'; Marianne Jean-Baptise In 'Violet & Daisy'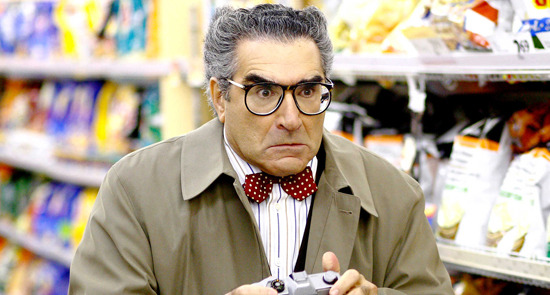 In the race to make a hockey comedy the clear winner will be Goon, which stars Jay Baruchel and Seann William Scott. (Runner-up might be Kevin Smith's Hit Somebody.) Goon is based on a script by Jay Baruchel and Evan Goldberg, which in turn was inspired by the book Goon:  The True Story of an Unlikely Journey Into Minor League Hockey. Now Eugene Levy is joining the cast as the film shoots in Winnipeg. We don't know his role, but prepare to see a character that looks quite a lot like many other Eugene Levy characters. He's good, but not a guy you hire when you're trying to work out of the box.
The film is about " a slacker and born brawler who's invited to join a minor league hockey team. Persuaded by his best friend to accept the offer, he becomes the hero of the team — until the league's reigning goon decides to take him down." Liev Schreiber also stars. [Variety]
After the break, new talent for Mr. Popper's Penguins and Violet & Daisy.
Another film shooting now is Mr. Popper's Penguins, which adapts and slightly changes the classic kids' book about a man who inherits a handful of penguins, and the chaos that comes to pass in his life afterward. Jim Carrey is playing the title role (Mr. Popper, not the penguins) and the cast also features Carla Gugino, Ophelia Lovibond and Philip Baker Hall under the direction of Mark Waters.
Now Angela Lansbury has signed on as Mrs. Van Gundy, "the owner of a local tavern that Mr. Popper, played by Carrey, is trying to buy." The aging actress isn't seen all that often (she's 85) but it's always good to see a genuine screen legend still grabbing a bit of work. Makes me want to rewatch The Manchurian Candidate. [Variety]
Finally, Violet & Daisy, the teen-girl-assassin picture that marks the directorial debut of Precious screenwriter Geoffrey Fletcher, just got a great new addition: Marianne Jean-Baptiste. She plays Number 1, "a worldly shapte-shifting assassin." While the film seems a little suspect — there's already another teen assassin film, Hanna, that will beat it to theaters — that idea is pretty cool, and makes this one sound like it's got a little Seijun Suzuki edge.
Saoirse Ronan and Alexis Bledel play teen killers taking what is meant to be an easy job, but their mark is a more complicated man than they expect. James Gandolfini and Danny Trejo also appear. The film is shooting now. [BVonMovies]