J. Jonah Jameson Being Recast For New 'Spider-Man' Film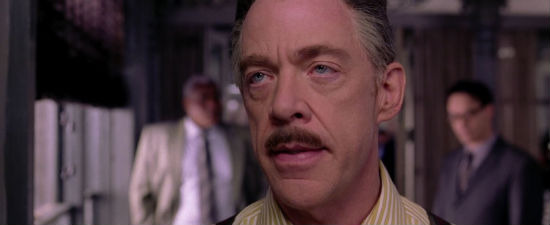 As perfect as J.K. Simmons (above) was playing Daily Bugle editor J. Jonah Jameson in the Sam Raimi Spider-Man films, it's no surprise to report that director Marc Webb is recasting the role for his 3D reboot of the franchise. In order to separate his film from the previous ones, everyone has to be recast and so far, Webb is holding his own, grabbing Andrew Garfield (The Social Network) as Peter Parker, Emma Stone (Zombieland) as Gwen Stacey and Rhys Ifans (Notting Hill) as The Lizard. Two of the names reportedly being considered for Parker's cigar-chomping, loud talking boss are John Slattery (Mad Men) and Sam Elliot (The Big Lebowski). There's more info after the break.
A "Hollywood Insider" writing for Australian website What's Playing (with a nod to Killer Film) says that casting director Francine Maisler (who previously cast for Raimi's first and third Spider-Man films) is teasing agents with word of a "Untitled Teen Action Adventure Movie." That is true, after all. The film does not have an official title, though the word's "Spider" and "Man" will probably be in there.
According to the report, though, Jameson is proving to be one of the most difficult roles to fill. In addition to Slattery and Elliot's names being tossed around, about ten other actors are currently being considered. One of the reasons it might be so difficult to cast Jameson is because any actor would probably find the role, even if it's minor, extremely intimidating. Simmons hit a World Series Game 7, bottom of the 9th, full count, game winning grand slam with his performance and it would be very difficult for anyone to come up with a new interpretation of the character without looking like an imitator.
If they are casting now, expect an announcement of that role – in addition to the rest of the cast and probably a title – within the next few weeks. Is there anyone who you think would be perfect for Jameson?