Cool Stuff: Mondo's 11th Star Wars Release, 'Luke's Destiny' By Frank Stockton And Our Top 10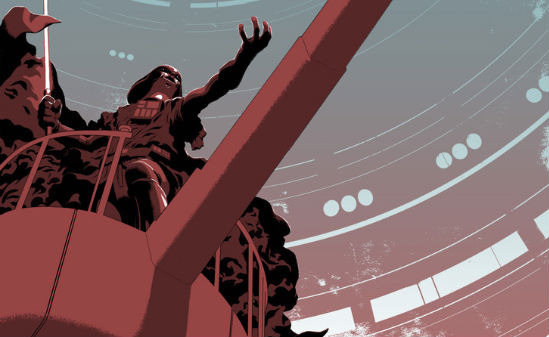 The officially licensed Star Wars poster series by Mondo Tees is half over. That's what Justin Ishmael, the man behind Mondo, revealed while unveiling the 11st poster in the series: Luke's Destiny by Frank Stockton. And being as we're reach the halfway point, and have missed a few along the way, we decided to not only show you the brand new poster, but rank the first half. See the full print and our top 10 after the jump.
The print was exclusively revealed in a really cool feature on UGO in which Ishmael reveals his ten favorite Mondo prints of all time (of which I own 3!). Definitely check that out. But first, here's Luke's Destiny by Frank Stockton.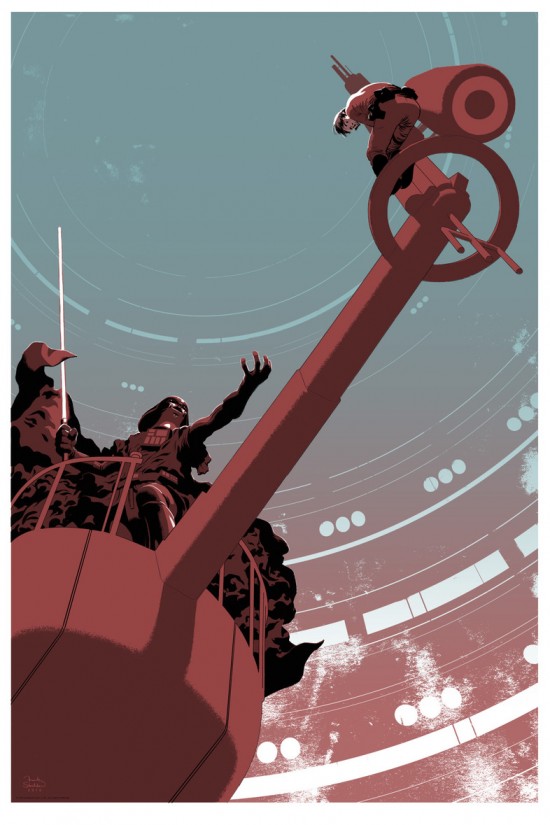 The print will be on sale at sometimes Thursday October 28. Follow @MondoNews on Twitter for the precise time.
And here's what Ishmael had to say about it.
We've never used Stockton before and always with someone new you're wondering, 'is this going to work?" But we saw the first sketch and we knew.
I love that this is the first time in the Star Wars series...we're half over and it's the first time you're seeing Luke and Vader. Now everyone's going to know we can do whatever we want, that it's deliberate. We wanted to focus on smaller stuff, but on the other hand, we're not snobby. We're going to do more of these, big posters with big scenes. But think about a pay-per-view event: they don't put the biggest scene first. It's all part of the excitement about not knowing what's coming.
It's safe to assume that there are probably nine more prints in this series and it sounds like we'll see some epic stuff. And, everyone in the poster community is waiting on one name – Tyler Stout – in case he has an interpretation.
However, as we're halfway done, I figured it might be fun to rank the first ten posters. Do you agree with these assessments? And what moments do you hope get dramatized in the second half?
Just to make it clear, though, I think all of these prints are incredible. My comments simply convey why I ranked them where they are.
10. Scrap Yard Power Droid by Jeff Soto – A pretty print to be sure, and while it's clever, it just doesn't say "Star Wars" to me.
9. Raider by Dave Kinsey – Another really cool print, but it just reminded me too much of the Shepard Fairey "Hope" image.
8. Dawn of Tattooine by Shan Jiang – While it invokes the fantastic moment with Luke, I'm not a big Stormtrooper fan.
7. Father: Encounter on Dagobah by Tomer Hanuka – A great interpretation of an awesome moment. Just don't love the pastels.
6. Salacious B. Crumb by Rhys Cooper – So gorgeous and hilarious, but I'd hate to wake up in the morning and see this.
5. Bounty Hunters Wave 2 by Ken Taylor – Sure there's Boba Fett, but the drop off after him is pretty huge.
4. Bounty Hunters Wave 1 by Ken Taylor – Three awesome secondary characters as good as they've ever looked.
3. Palace by Tom Whalen – Any poster with Han Solo in Carbonite on it is automatically amazing.
2. Great Warrior by Todd Slater – Classic character, classic imagery, perfect.
1. Hoth by Dan McCarthy – At first glance, you can't even tell this is a Star Wars print. And that makes it my favorite one.