Ep. 121 - Paranormal Activity 2 (GUEST: C. Robert Cargill From Ain't It Cool News)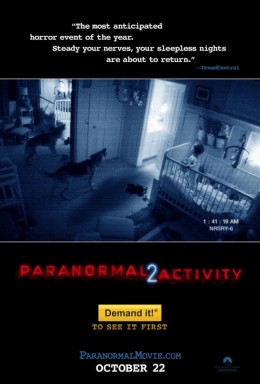 This week, David Chen, Devindra Hardawar and Adam Quigley discuss the possibility of new Star Wars films, get excited about an Aronofsky-directed Wolverine film, and ponder whether Mel Gibson truly has been subjected to a double standard. Special guest C. Robert Cargill joins us from Ain't It Cool.
You can always e-mail us at slashfilmcast(AT)gmail(DOT)com, or call and leave a voicemail at 781-583-1993. Join us on Sunday (11/7) at 10 PM EST / 7 PM PST at Slashfilm's live page as we review Due Date.
Download or Play Now in your Browser:
Shownotes
Introduction
(00:55) C. Robert Cargill (AKA Massawyrm) joins us from Ain't It Cool News
What We've Been Watching
David Chen (03:00):  [REC], [REC2]
C. Robert Cargill (11:22): Community
Devindra (19:05): Back to the Future, Caprica
Adam (22:42): Wet Hot American Summer, SHIT MOVIE OF THE WEEK: Vampire's Kiss
News Discussion
Featured Review
(1:00:42) Paranormal Activity 2
Credits
A big thanks to our sponsor, The Warner Movie Archive. Visit http://www.warnerarchive.com and use the promotional code SLASHFILM to get $5 off any Warner Archive purchase!
Our music comes from Point 22 courtesy of the Podsafe Network, and Brad Sucks
If you'd like advertise with us or sponsor us, please e-mail slashfilmcast@gmail.com.
Contact us at our voicemail number: 781-583-1993
You can donate and support the /Filmcast by going to www.slashfilmcast.com and clicking on the left-hand side "Donate" links! Thanks to all our donors this week!