This Week In DVD & Blu-Ray: The Girl Who Played With Fire, Winter's Bone, The Venture Bros. (Season 4, Vol. 1), And More
We may receive a commission on purchases made from links.
This Week in DVD & Blu-ray is a column that compiles all the latest info regarding new DVD and Blu-ray releases, sales, and exclusive deals from stores including Target, Best Buy and Fry's.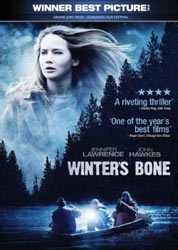 WINTER'S BONE
Winter's Bone is a tense, dreary affair, consisting almost exclusively of characters devoid of vitality or a sense of humor. It's a thriller, but not in the traditional sense; the thrill stems more from the grim, desperate atmosphere that pervades every frame than it does any acts of violence or terror. Thrust in the middle of this ordeal is the poor but resilient Ree Dolly, who at only 16, is already tasked with taking care of her two younger siblings and near vegetative mother. Her life gets considerably more complicated when she discovers that her criminal father, who's nowhere to be found, put up their house as collateral for his bail. So off she goes, facing down the stoic yet threatening glares of her drug-addled rural community in hopes of finding her father and keeping her destitute family intact. Were it not for the film's penchant for cultural authenticity, the story might not be as engaging as it is, but the neorealist approach allows the film to operate at a slow-burn pace without ever becoming boring. Unlike what you might expect from a more mainstream Hollywood effort, the conflict here isn't simply solving the mystery of where the father is and why; it's about hoping you can make it another day without going to bed hungry, if there's even a bed left to go to at all.
Available on Blu-ray? Yes.
Notable Extras: DVD & Blu-ray – Director's commentary, deleted scenes, and a making-of featurette.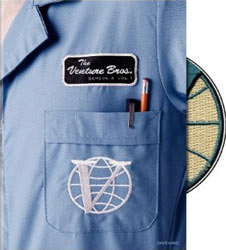 THE VENTURE BROS. (SEASON 4: VOL. 1)
Four seasons in, and The Venture Bros. remains one of the best shows on television, inventively building on an already expansive mythology that isn't afraid to take the series in crazy new directions. This DVD release, however, is nothing more than a cash grab. Vol. 1 contains the first half of the season (8 episodes, 5 less than previous seasons), and Vol. 2 will be released in March with the season's 8 remaining eps. Those waiting for Blu-ray, meanwhile, will be able to pick up the full Season 4 set when it's released in conjunction with the Vol. 2 DVD. I know which one my money is going toward.
Available on Blu-ray? No.
Notable Extras: Commentaries and deleted scenes.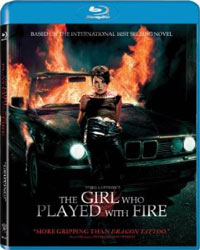 THE GIRL WHO PLAYED WITH FIRE
The second entry in the Swedish film adaptations of Stieg Larsson's Millennium trilogy was well received by critics, but not nearly to the same extent as its predecessor. Noomi Rapace's intense performance is once again responsible for much of the praise, with the film itself being appreciated by many as an efficient "pulp fiction" thriller—no more, no less. This time around, Lisbeth and Mikael are in the midst of investigating a sex-trafficking ring when Lisbeth is accused of three murders, forcing her to go on the run while Mikael tries to prove her innocence. Here's the trailer.
Available on Blu-ray? Yes.
Notable Extras: None.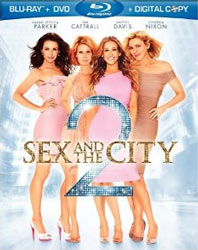 SEX AND THE CITY 2
Watching rich, catty, materialistic, culturally insensitive women prance around making sexual quips and uttering lines like, "Lawrence of my labia!" is pretty far removed from my idea of a good time, so I'll leave this film for the ladies to enjoy. Although even they may have a hard time.
Available on Blu-ray? Yes.
Notable Extras: DVD – Revisiting the '80s, and SATC2 Soundtrack: Behind the Scenes with Alicia Keys. Blu-ray – Includes everything on the DVD, as well as Commentary by Michael Patrick King, "So Much Can Happen in Two Years": A conversation with Sarah Jessica Park and Michael Patrick King, Styling Sex and the City 2, Marry Me Liza!, and The Men of Sex and the City.
EXCLUSIVE DEAL:
What? 2-Disc Special Edition DVD release of Sex and the City 2. 50 Minutes of bonus content, including exclusive featurette and deluxe packaging.
Where? Target.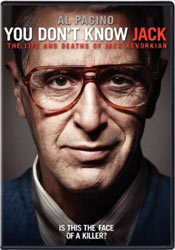 YOU DON'T KNOW JACK
Al Pacino plays Dr. Jack Kevorkian in HBO's biopic about the activist who fought for terminal patients' right to die via physician-assisted suicide, and ended up serving eight years in prison for second-degree murder because of it. Susan Sarandon, Danny Huston and John Goodman co-star. The made-for-TV film received favorable reviews. Here's the trailer.
Available on Blu-ray? No.
Notable Extras: Audio commentary and a featurette.
Other noteworthy DVD (and Blu-ray) releases this week...
Paths of Glory (Criterion Collection) [DVD / Blu-ray] – House (Criterion Collection) [DVD / Blu-ray] – Star Wars: The Clone Wars (Season 2) [DVD / Blu-ray]
Noteworthy Blu-ray-specific releases this week...
Back to the Future: 25th Anniversary Trilogy – Alien Anthology

NOTES: Some deals may vary by store. Some deals may be in-store only. All deals are for DVDs unless otherwise noted.

$12.99 – Blu-ray sale: The Wolfman, Paranormal Activity, Final Destination, The Strangers, Friday the 13th (2009), Daybreakers, The Stepfather (2009), Drag Me to Hell, Halloween II (2009), The Unborn
$9.99 – Blu-ray sale: Orphan, Hostel, Saw VI, 30 Days of Night
$6.99 – Daybreakers, Drag Me to Hell, A Perfect Getaway, Halloween II (2009), The Unborn, The Stepfather (2010), Hocus Pocus
$4.99 – Children of the Corn, 30 Days of Night, The Hills Have Eyes (Unrated, 2006), Saw VI, Orphan