Matthew Broderick And Casey Affleck Cast In 'Tower Heist'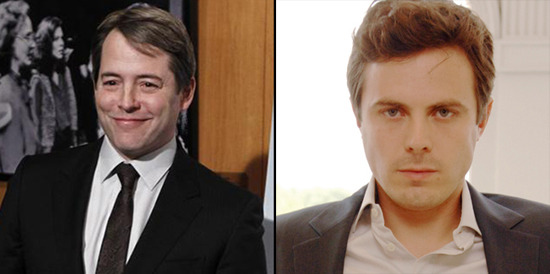 The cast of Brett Ratner's Tower Heist continues to attract talent. Matthew Broderick has just signed on, and Casey Affleck and Judd Hirsch are joining as well. 
Mr. Broderick will play Chase Fitzhugh, "a Wall Street guy who, like the building staff, had his finances cleaned out by the Bernie Madoff-like character played by Alan Alda," according to Deadline. In other words, in the world of the film, he's a jerky suit, but one who got screwed and comes over to the side of the working guys.
He joins Ben Stiller, Eddie Murphy, Tea Leoni, Gabourey Sidibe and Michael Pena as the workers of the building in which Alan Alda's character has his penthouse. They put him under house arrest and try to steal their money back, and one would expect that wacky hijinks ensue.
According to THR, Casey Affleck will play the best friend and employee of Ben Stiller's character. He's not on board with the heist, though, which leads to complications. (That's a nice turn of events given that when Ted Griffin's original Tower Heist script was going around it was often called a 'black Ocean's Eleven.' Casey Affleck played one of the more out of control characters in Steven Soderbergh's three Oceans films.)
We don't know details of Judd Hirsch's character, but I'll be happy to have that as a surprise. And it's always nice to see Matthew Broderick on screen, and he's a welcome addition to this cast. If you missed his appearance on Louie not long ago (as a film actor/director who is making a Jewish version of The Godfather!) I highly recommend checking it out.