First Look: The 'Footloose' Remake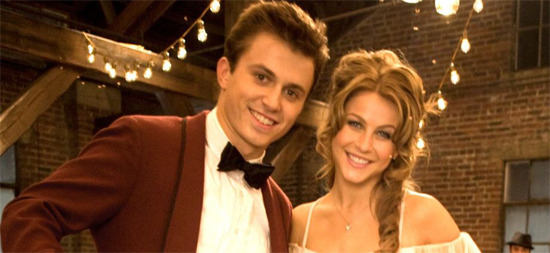 I know: you're dying to see images of the Footloose remake, which is shooting now with a cast that includes Kenny Wormald and Julianne Hough in the roles originated by Kevin Bacon and Lori Singer. That's the first look at the two actors in costume, above, which is pretty obviously sourced from the days on which the film's big prom / dance scene was shot. See a larger version after the break.  
Also in the film are Dennis Quaid and Andie McDowell as the parents of Ms. Hough's character, and Miles Teller plays the hometown boy, originally played by Chris Penn, who becomes friends with Kenny Wormald's character.
Director Craig Brewer has even cut a trailer for Footloose, which he premiered in Memphis this past Saturday night before a screening of his first feature The Poor & Hungry. No word on when we'll see that, but as Footloose hits theaters on April 1, 2011 we can likely expect to see a teaser very soon.
Mr. Brewer posted this image via Twitter, and his TwitPic feed has many other photos from those days on set. I'm surprised to see how faithful this is to the costuming of the original. Though Craig Brewer is from Memphis and I very much expected to see a film that didn't look like it was designed and shot in modern LA, I didn't expect to see costumes that look as if they were pulled out of the archive bins for the '84 original. [via Movieline]