VOTD: Dexter Webisode 'Dark Echo' By Comics Legend Bill Sienkiewicz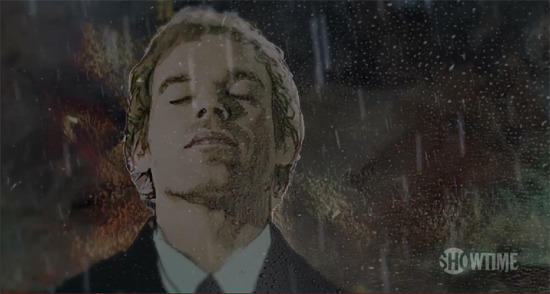 Before Dave McKean made his mark on the comics world, one of the more unusual and striking artists on the mainstream comics scene was Bill Sienkiewicz. His choppy lines, painted interludes and collage-derived layout sense came to an early head in Elektra: Assassin, which remains one of the must-reads of the mid-'80s Marvel catalog.
Now you can see how the artist's style works with Dexter and his Dark Passenger, thanks to the Dark Echo series of webisodes, which are now online.
I had lost most interest in Dexter as a live-action series, but seeing the classic Sienkiewicz lines applied to the story makes it seem fresh again. These webisodes, which also feature art from David Mack, might even get me back into the show.
In addition to working on the Dexter webisodes, Mr. Sienkiewicz has a couple other interesting projects in the pipline, according to the bio on his website. I'll start by quoting:
Sienkiewicz' character design for the upcoming DreamWorks' film Alcatraz Versus The Evil Librarians has now opened doors for producing. Sienkiewicz is conceptualizing characters for LionsGate's supernatural Western The Man With No Name, which he will executive produce with Braxton Pope. He will also jointly produce, write and direct the film of his Stray Toasters with Jeff Renfroe.
Alcatraz Versus The Evil Librarians is a young adult book DreamWorks optioned in 2008; it " tells the story of Alcatraz Smedry, a young teen who is always breaking things. After receiving a bag of sand for his thirteenth birthday, he stumbles into a strange set of events which begins with a group of librarians stealing his bag of sand, which turns out to be rather unusual sand."
I can't find any specifics about The Man With No Name, though the title obviously calls back to Sergio Leone's three films with Clint Eastwood (A Fistful of Dollars, For a Few Dollars More and The Good, the Bad and the Ugly) in which the central character was rechristened the Man With No Name for the US release of the Westerns.
And, finally, Stray Toasters is the post-Elektra:Assassin work by Mr. Sienkiewicz, about "criminal psychologist Egon Rustemagik and his investigation of a serial killer that seems to be targeting women." I haven't read or even thought about that four-issue series in years. Time to dig it out.