TV Bits: FX Picks Up Elijah Wood Comedy Series 'Wilfred'; Comedy Central Greenlights 'Waiting...' Pilot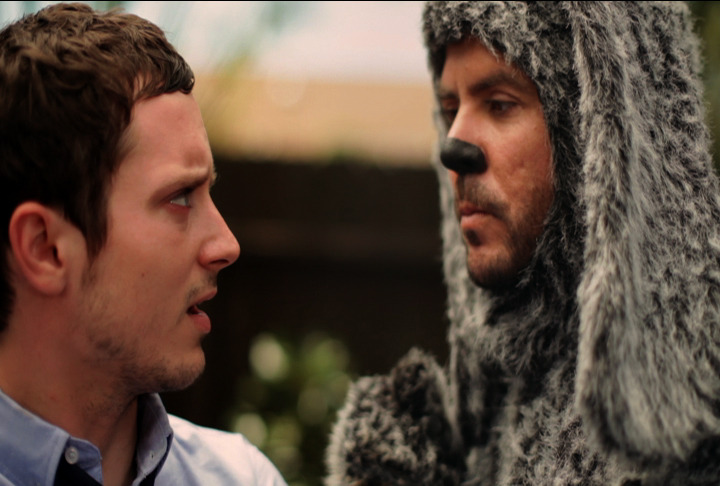 There's been a number of overseas shows being adapted for US audiences recently—we posted the trailers for two of them just the other day—and now here's another one to add to the pile. FX has picked up Wilfred, a remake of the acclaimed Australian series about "an introvert who struggles to find social and professional happiness, until he meets 'Wilfred'", his attractive next door neighbor's Australian Shepherd. To everyone else, Wilfred is a dog, but to the introverted Ryan (played by Elijah Wood), Wilfred is a man dressed in a dog suit. Wilfred is "Ryan's alter-ego intent on pushing Ryan out of his shell," or as described by series showrunner David Zuckerman (co-developer of Family Guy), he's "part Australian Shepherd, part Russell Crowe on a bender".
The series was developed by Zuckerman, who also wrote the pilot. Jason Gann, co-creator of the original show, is reprising his role as Wilfred. FX has ordered 13 episodes based off the pilot, set to premiere summer 2011. [Ain't It Cool, Deadline, The Live Feed]
After the break, the cult comedy Waiting... gets adapted into a TV series.
Though there wasn't much enthusiasm for the Waiting... sequel, Still Waiting..., the original lewd, crude restaurant comedy still has enough of a built-in following that Comedy Central wants it as a TV series. Considering how often they broadcast the film, this shouldn't come as too big a shock.
The half-hour show, also from writer/director Rob McKittrick, has been given a pilot order, and will continue the exploits and antics of the aimless employees of a Shenaniganz chain restaurant as they mock customers, instigate interpersonal drama, and remind us once again why it's a bad idea to mess with the people who handle your food.
I wouldn't call Waiting... a great film by any means, but I like it more than I probably should, and can see its premise fitting well with the TV format. But will it? That remains to be seen. Comedy Central hasn't had the greatest track record with live-action shows (see recently: Big Lake, Kröd Mändoon and the Flaming Sword of Fire), and unless they can find an actor with as strong a presence as Ryan Reynolds to carry the series, I could very easily see it landing with a thud. [Deadline, The Live Feed]