Tony Scott Wants To Direct 'Top Gun 2'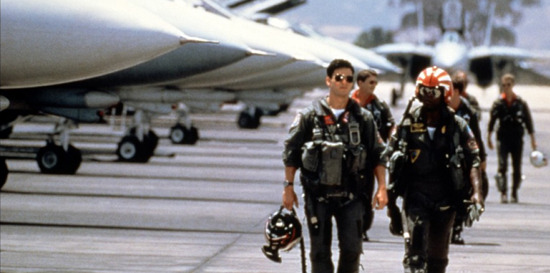 Recently when we heard that Paramount was looking to woo Jerry Bruckheimer and Tony Scott back to the studio to make a sequel to the 1986 blockbuster Top Gun I cast aspersions upon the idea that Tony Scott might actually direct a sequel. But I was wrong — Tony Scott said this weekend that he is, in fact, interested in doing Top Gun 2, and that he's on board for the sequel. It won't be his next film, but it could happen not too far down the road. Mr. Scott's comments about what might draw him back to the fold are after the break.
HitFix spoke to the director, and he said, "I don't want to do a remake. I don't want to do a reinvention. I want to do a new movie."
This film may or may not involved Maverick, the character played by Tom Cruise in the original, but Tony Scott's current ideas sparked when he met a young Air Force 'pilot' who works with unmanned drones. And reading the director's comments about the 'new' Air Force in these post-Cold War days, I'm quick to envision something that is like Top Gun plus WarGames... or perhaps a film that resembles Ender's Game, with more alcohol and hot women.
I'm not waiting for a script. I'm going to do my homework. I'm going down to I think it's Fallon, Nevada, down near New Mexico and it's a whole different world now... These computer geeks — these kids play war games in a trailer in Fallon, Nevada and if we ever went to war or were in the Middle East or the Far East or wherever it is, these guys can actually fly drones.  They are unmanned aircraft.  They operate them and then they party all night.
So take scenes of Denzel Washington working the transit control room in The Taking of Pelham One Two Three, and expand that into the new Top Gun. I know that the world of air combat has changed, but I'm very curious to see how Tony Scott makes a movie that can compare to the iconic Top Gun out of people conducting warfare at such a remove. He's also saying that this will be, as we'd heard, about the end of the 'old' Air Force, to some extent, and he acknowledges that these guys are still trained as pilots. So will we see a drone pilot jumping into a manned aircraft to save the day in the end?