Syfy To Make New 'Battlestar Galactica' Series Pilot Called 'Blood & Chrome'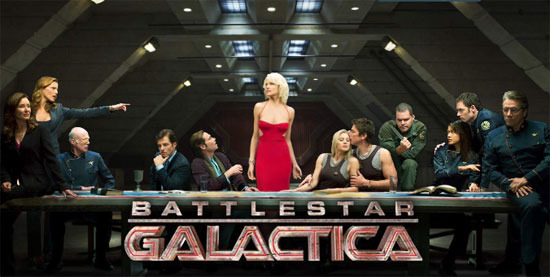 We already have one Battlestar Galactica prequel series and we soon could be getting a new one. The Syfy network just greenlit a two hour pilot called Battlestar Galactica: Blood & Chrome which will follow a young William Adama as a Viper pilot on the battlestar Galactica during the first Cylon war. So, unlike the other BSG prequel series Caprica, Blood & Chrome will focus  more of the action that was prevalent in the reimagined 2004 series that ran for four seasons. Adama, as BSG fans know, was one of the main characters on that show. Portrayed by Edward James Olmos, he's a legendary military leader who helps the human race survive after the enemy Cylons destroy their home. The new series will see the return of executive producer David Eick, but not show creator Ron Moore. We've got much more after the jump.
This is the official description of the pilot episode of the show, according to a Syfy press release:
Battlestar Galactica: Blood & Chrome takes place in the 10th year of the first Cylon war. As the battle between humans and their creation, a sentient robotic race, rages across the 12 colonial worlds, a brash rookie viper pilot enters the fray. Ensign William Adama, barely in his 20's and a recent Academy graduate, finds himself assigned to the newest battlestar in the Colonial fleet' the Galactica. The talented but hot-headed risk-taker soon finds himself leading a dangerous top secret mission that, if successful, will turn the tide of the decade long war in favor of the desperate fleet.
William Adama is also a character on Caprica, which is still airing on Syfy, but his it's his father – Joseph – who is one of the main characters on that show. Though the announcement makes it clear that Blood & Chrome will take place in between to two existing shows, there's no word on how much the stories will interweave between the three. Since Blood & Chrome will " return us to the authentic, relentless depiction of combat and the agony and ecstasy of human-Cylon war, which was the hallmark of Battlestar Galactica's early seasons," according to Eick, one can discern that it'll tie right in with the first series. Caprica, on the other hand, doesn't even have an officially announced second season.
Battlestar Galactica fans are sure to be extremely happy with this announcement, as Bill Adama is one of their favorite characters in addition to having such a rich history. A show dramatizing his rise along with the rise of the Cylons is, potentially, a very exciting idea. Not only can the show explore the same themes as the others, but the return of that energy and excitement from the original series is certainly welcome.
Are you all in with this series? Or do you feel this world should just be left alone?
Source: THR