Movie Trailer: 'Rabbit Hole'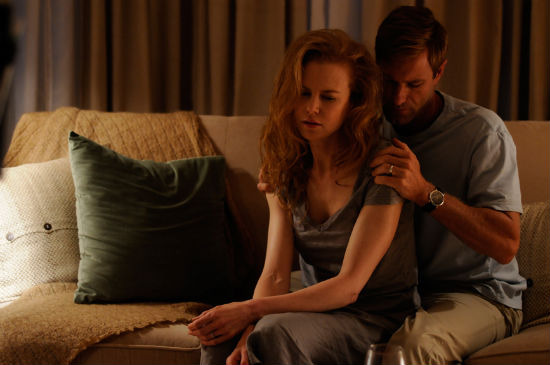 Based on the Pulitzer Prize and Tony Award winning play by David Lindsay-Abaire, Rabbit Hole is a drama directed by John Cameron Mitchell (Hedwig and the Angry Inch) starring Nicole Kidman and Aaron Eckhart as parents dealing with the death of their child. It premiered earlier this year at the Toronto International Film Festival where Lionsgate picked it up to release for Oscar consideration. Well, they aren't wasting any time. The film will be released December 17 and the trailer just came online.
The trailer is up over at Apple, so head over there for the best quality, but here it is embedded as well.
The reviews coming out of Toronto for the film were pretty fantastic, including this one from Scott Weinberg at Cinematical which was quoted in the trailer.
Quite simply, [Rabbit Hole is] one of the best films I've ever seen at a festival. I've always contended that there's no such thing as a "flawless" film, but now I'm going to amend that phrase to read "There's no such thing as a perfect film." Because 'Rabbit Hole' is, as far as I can tell, pretty much flawless.
Here's the official plot description:
RABBIT HOLE is a vivid, hopeful, honest and unexpectedly witty portrait of a family searching for what remains possible in the most impossible of all situations.
Becca and Howie Corbett (NICOLE KIDMAN and AARON ECKHART) are returning to their everyday existence in the wake of a shocking, sudden loss. Just eight months ago, they were a happy suburban family with everything they wanted.  Now, they are caught in a maze of memory, longing, guilt, recrimination, sarcasm and tightly controlled rage from which they cannot escape.   While Becca finds pain in the familiar, Howie finds comfort.
The shifts come in abrupt, unforeseen moments.  Becca hesitantly opens up to her opinionated, loving mother (DIANNE WIEST) and secretly reaches out to the teenager involved in the accident that changed everything (MILES TELLER); while Howie lashes out and imagines solace with another woman (SANDRA OH). Yet, as off track as they are, the couple keeps trying to find their way back to a life that still holds the potential for beauty, laughter and happiness.  The resulting journey is an intimate glimpse into two people learning to re-engage with each other and a world that has been tilted off its axis.
RABBIT HOLE is directed by John Cameron Mitchell (Hedwig and the Angry Inch) from a script by acclaimed playwright David Lindsay-Abaire, adapted from his Pulitzer Prize-winning play.  The cast, led by Academy Award® winner Nicole Kidman (The Hours, Actress in a Leading Role, 2002) and Golden Globe® nominee Aaron Eckhart, includes two-time Oscar® winner Dianne Wiest (Hannah and Her Sisters, Actress in a Supporting Role, 1986; Bullets Over Broadway, Actress in a Supporting Role, 1994), Tammy Blanchard, Miles Teller, Giancarlo Esposito, Jon Tenney and Sandra Oh.
RABBIT HOLE is produced by Olympus Pictures, Blossom Films and OddLot Entertainment.  Producers on the project are Leslie Urdang, Dean Vanech, Nicole Kidman, Per Saari and Gigi Pritzker.  The executive producers are Daniel Revers, Bill Lischak, Linda McDonough and Brian O'Shea. Lionsgate presents an Olympus Pictures Blossom Films OddLot Entertainment production.
From that, and watching the trailer, I come up with two conclusions. One: I really want to see this movie. And two: I have a feeling I better bring some tissues.
What do you think of the trailer?