Early Buzz: Paranormal Activity 2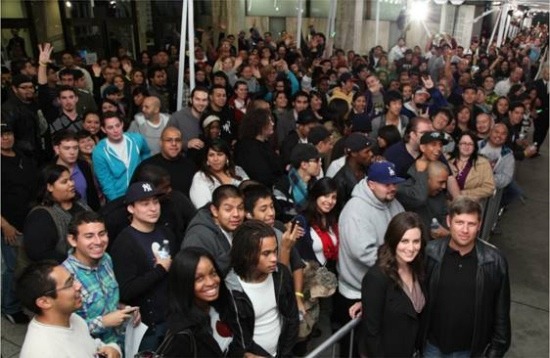 I'll admit it, I didn't expect Paranormal Activity 2 to be any good. The sequel was rushed into production to be released in theaters a year after the original (ala Saw). Paramount Pictures had not released much footage for the release, and was not screening the film early for press (night before screenings in some cities) — both are normally indicators of nothing good. Last night thousands of fans lined up in Los Angeles and cities across the country to be the first to see the sequel at midnight, and Paramount reports sell-out crowds in 20 cities in the U.S. and Canada. So how was the movie? Let's take a look at the early buzz from the first reviews hitting the interwebs! And don't worry, I've removed all spoilers from the excerpts.
Looks like I was wrong... seems like everyone is loving the sequel, with everyone saying it is as good as the original if not even better. Here are the reviews:
Entertainment Weekly: "shivery-skillful, highly worthy fear-factor sequel" ... "In Paranormal Activity 2, our eyes keep darting back and forth, scanning the sidewalks, the doorways, the posh bric-a-brac in that overstuffed kitchen, searching (before it can frighten us!) for a telltale bit of movement — for the barest hint of an apparition edging into the frame, or an inanimate object that decides to move around on its own. It's like a haunted-house version of Where's Waldo. Alfred Hitchcock used to say that if you jolted an audience with a bomb blast out of the blue, that was merely a shock, but if you planted a bomb and made the audience wait for it to go off, that was suspense. Paranormal Activity 2 blends the two modes into what might be called shockpense. The film keeps jolting us out of the blue, all right — with sudden booms"Dread Central: "the people behind this film have accomplished a minor miracle: Paranormal Activity 2 is every bit as scary as the original. In fact, it's the Godfather II of found footage movies. This is what Aliens is to Alien." ... "Indie filmmaker Tod (The Door in the Floor) Williams takes over directorial duties from Peli (stepping in as producer), and he masterfully handles the cinema-verite style without missing a beat. Even though he has an actual budget to play with, Williams never devolves it into an FX show, instead playing everything out practically through the same creepy minimalist techniques. As a result, we actually have a big studio sequel that doesn't lose the indie spirit of its predecessor." ... "It goes without saying that Paranormal Activity 2 won't win over any new fans. If the first film didn't do anything for you, neither will this one."Aint It Cool News: "In most ways, PARANORMAL ACTIVITY 2 exceeds the scares of the first film, and does so without resorting to easy special effects or growing the plot outside of the home. There were a few times when I questioned why a family member might pull out a video camera at a particular moment in the story, but every time I screamed, I kind of forgot to consider the question. The caliber of the acting is better in the new movie, and that means a great deal toward selling the fear." .... "I was a big fan of PARANORMAL ACTIVITY and I'm even more impressed with the new movie that borrows its style and pacing but ramps up the tension and scares considerably. See PARANORMAL ACTIVITY 2 with someone you love and doesn't mind having their arms bruised and torn up."I Am Rogue: "Will the film live up to the hype? Will it offer up the same thrills and chills as the original? I can tell you the answer right now... an astounding yes! Or should I say... Holy crap! Say goodbye to sleep!" ... "The shadowy figures, the sound design and all the little bits of information PA2 offers its audience delivers incredible suspense." ... "This is one of the best horror sequels I've seen. It is funny, creepy and downright thrilling, and the way it works with the original is outstanding."Bloody Disgusting: "Paranormal Activity 2 is completely true to its roots, establishing itself as a competent, cohesive and coherent addition to the franchise that not only lives up to the hype, but also builds upon the original's mythology. With that said, it should be pretty evident that Paranormal Activity 2 will solely be enjoyed by the fans of the first, and that haters shouldn't touch this with a 10, 50, wait no, a 100 foot pole." ... "The sequel, while not better than, might be just as good as Oren Peli's indie smash hit of 2009."HitFix: "how is the second one genuinely scary, and why do I feel like this is a near-perfect example of how to learn from a first film when building a second film?" ... "writer Michael R. Perry and director Tod Williams, working with Oren Peli who made the first film, have reverse-engineered a sequel that directly ties into the first film and which actually fills out the first film in hindsight. It's a very canny piece of writing, and as the film reveals its surprises and you realize the way it works with the first film, those pay-offs are a real pleasure." ... "Paranormal Activity 2 is as stark, as bleak, and as skilled as any horror film I've seen this year, and suggests this is a series we're going to be watching for a while.
And here is some footage from the Los Angeles screening showing the audience reactions: