POTD: ESPN Magazine Imagines NBA Players As Marvel Superheroes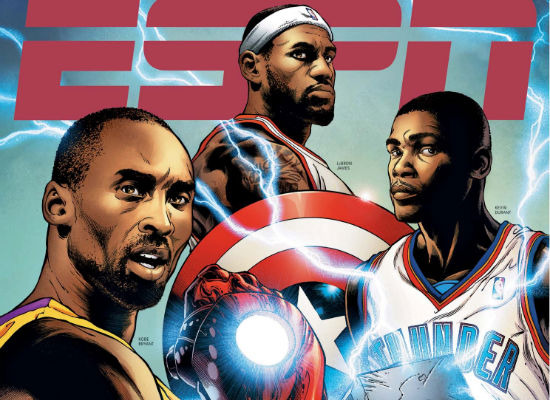 While we don't regularly cover professional sports here on /Film, we do regularly cover Iron Man, Thor and Captain America: The First Avenger. So when three of the biggest stars in the NBA are portrayed as these three Marvel mainstays, we have to give you a heads up. The November 1st, NBA Preview issue of ESPN The Magazine hits newsstands Friday and features Kobe Bryant, Lebron James and Kevin Durant as Iron Man, Captain America and Thor respectively. According to Mark Millar and Joe Quesada, the project was the brainchild of Marvel Executive Editor Axel Alonso and was brought to fruition by Rich Ginter and George Beliard. We've got a nice, big version of the file for download after the jump.
Here's the full cover for your viewing pleasure and even bigger, 3.1 MB one, can be downloaded here.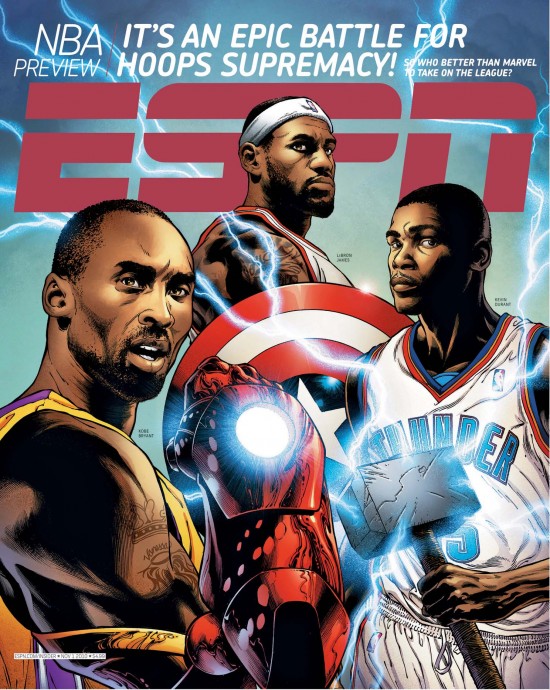 What I'm trying to figure out is the choice of each Avenger for each player. If this was last year, Lebron James as Captain America would make sense, but I think there's a big chunk of America who hates Lebron now after going to Miami. Kobe Bryant as Iron Man works though. The guy has been an NBA superstar for about 15 years, plays hurt and has five championships. Kevin Durant is the baby of the bunch, but his skills do make him kind of God like. So maybe Thor fits. Do you guys agree?
Not that there was a lot of room to maneuver, I would imagine. It's surely not a coincidence that Marvel chose their three biggest superheroes right now, with movies coming out soon, to be on the cover of this magazine. None of these guys were going to be Spider-Man or Wolverine, that's for sure.