Naomi Watts Suggests That Andrew Dominik's Marilyn Monroe Biopic Is Still Happening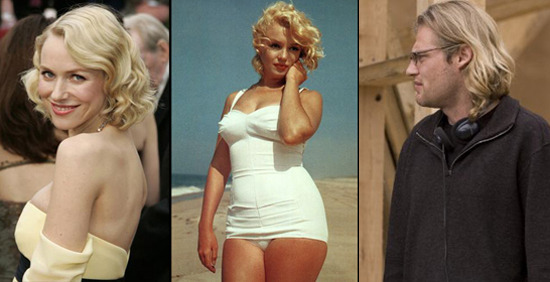 Earlier this year, Andrew Dominik (Chopper, The Assassination of Jesse James by the Coward Robert Ford) was one of two filmmakers lined up to make films based on the life of Marilyn Monroe. He was prepping Blonde, based on the Joyce Carol Oates speculative biography of the actress, with Naomi Watts set to star. The Weinstein Company and Simon Curtis were prepping My Week With Marilyn, with Michelle Williams.
The latter got in motion first, and is shooting now. Between that and the announcement that Mr. Dominik might be shooting another film with his Jesse James star Casey Affleck by early next year, it seemed like Blonde was on hold at the very least, and possibly dead. Naomi Watts made a few comments about it this week, however, making Blonde sound as if it will happen one day, and perhaps sooner rather than later.
The New Zealand News spoke to the actress as she promoted Fair Game, and she said
It's going to be a huge undertaking because everyone obviously has their own idea about who she was. It's a high pressure thing to take on because of how iconic she was. But I'm just not there yet. I don't know how I'll go about it.
That outlet reports that the film will shoot in January, which is the same timeframe we'd heard for the collaboration featuring Casey Affleck.
(That one was said to be a Boston-based crime drama. Could some wires have got crossed, or is a little misdirection going on and Mr. Affleck is actually meant to appear in Blonde? That seems like a stretch, but the two reports definitely contradict.)
Meanwhile, Naomi Watts effectively echoed that anxious mindset to ComingSoon when she said, "I'm not really there yet," with respect to being ready to play Marilyn. She added,
It's based on the Joyce Carol Oates novel 'Blonde' which is fictitious even though it's obviously about Marilyn Monroe. We'll see, we'll see how things go. It's not the glossy, gorgeous Marilyn Monroe we're portraying here in a biopic. It's a very meaty, intense project.
I'm happy to hear that Blonde may still go forward. As much fun as it might be to see Kenneth Branagh play Sir Laurence Olivier in My Week With Marilyn, the idea of Andrew Dominik tackling another one of America's pop culture icons was too good to let go. My Week With Marilyn seems entertaining but lightweight, and Blonde sounds like the film that could really leave audiences with something to think about.