Movie Trailer: 'The Rite', The Exorcism Film Starring Anthony Hopkins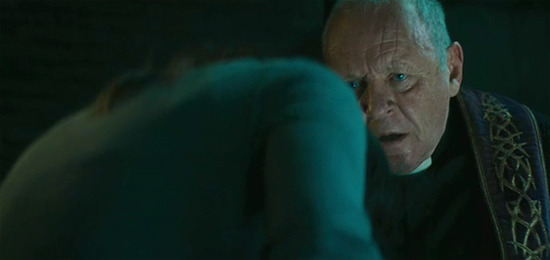 Since Anthony Hopkins was first cast in Mikael Hafstroem's film The Rite earlier this year, I've wondered what kind of film it might end up being. The script is based on Matt Baglio's book The Rite: The Making of a Modern Exorcist, which seeks to delve into the real-world practice of exorcism. I was afraid the film would be to the book what Wes Craven's The Serpent and the Rainbow was to Wade Davis' excellent ethnographic book of the same name. That is: a crappy, lurid and not terribly effective gloss on the material.
There's now a trailer for The Rite, and what we see here looks to be somewhere in the middle of 'faithful' and 'lurid,' if perhaps skewed towards the lurid side.
First impression: man, the Vatican has some high-tech classrooms. There's a lot of atmosphere here, maybe a bit of convincing work from Mr. Hopkins, and I'm curious about the performance of his co-star Colin O'Donoghue (The Tudors). I'd heard that Michael Petroni's script was relatively faithful to the book, but this trailer makes it look pushed towards established horror movie territory. I'll hope for the best, however.
Apple has the trailer in HD along with this synopsis:
Inspired by true events, "The Rite" follows skeptical seminary student Michael Kovak (Colin O'Donoghue), who reluctantly attends exorcism school at the Vatican. While in Rome, he meets an unorthodox priest, Father Lucas (Anthony Hopkins), who introduces him to the darker side of his faith. Directed by Mikael Hafstroem ("1408"), "The Rite" is a supernatural thriller that uncovers the devil's reach to even one of the holiest places on Earth.
Below is the embed of the trailer's presentation on the Scream Awards. I'll update with a better one as soon as it is available.