VOTD: Adam Green's Halloween Short Film: 'Just Take One'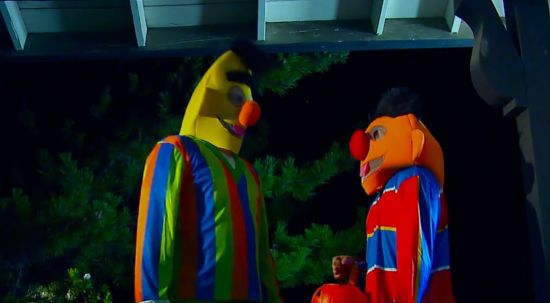 Celebrate the wonders of Sesame Street, Troll 2, America, child molestation, and trick or treating in your thirties with director Adam Green's short film made specially for Halloween called Just Take One. The director behind Hatchet, Frozen and the now infamous Hatchet 2 has been making Halloween short films for his fans for 12 years over at his official site, Ariescope. The latest one, about the moral dilemma trick or treaters face when a house leaves an unmanned bowl of candy outside, is just sweet enough for a PG-13 audience, before, well, at just over four minutes, check it out after the jump.
JUST TAKE ONE from ArieScope Pictures on Vimeo.
Recently, we mentioned how certain filmmakers are particularly good at using the internet to keep a positive interaction with their fans and Adam Green is certainly one of those. The honesty on his blog is extremely refreshing and he tweets up a storm. None of his films have yet to hit with mainstream audiences but there's a lot to say for the fact that he's actually making films that are reaching any audience at all. I'm a huge fan of Frozen, for example, a simple yet scary story that might not be flashy with David Mamet dialogue, but it doesn't have to be. It works, and if Green keeps making films that work, he's going to break out.
Making fun films, for the fans, like the one above doesn't hurt either. What do you guys think about Green and this short? Does it get you in the Halloween spirit?