Anne Hathaway And James Franco In Talks For 'Alien' Prequel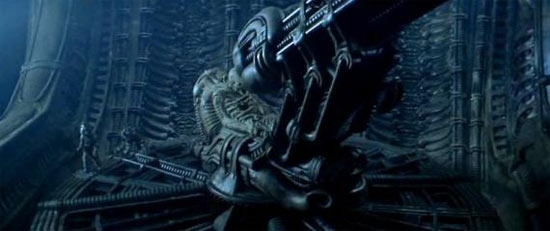 Whether they're just fans of the franchise or want to work with director Ridley Scott, it seems like much of young Hollywood is circling the currently the Untitled Alien Prequel that's in pre-production. Last week, word broke that
Damon Lindelof's rewrite of the script and that Natalie Portman was on top of a short list to star as the lead. There are now reports that Anne Hathaway and James Franco are also interested in being a part of the film. I urge you to...
exclusively broke the news that the stars of Pineapple Express and The Devil Wears Prada "could be suiting up for the prequel." It makes sense, both because of their acting skills and because both actors graduated to big budget event films after getting their starts in relatively small budget productions. Hathaway recently starred as Agent 99 in 2008's Get Smart and as the White Queen in Tim Burton's 2010 Alice in Wonderland. She'll next be seen in Love and Other Drugs with Jake Gyllenhaal (which isn't an event movie, but it's from event movie director Edward Zwick). Franco, on the other hand, recently finished filming on next Summer's Rise of the Apes where he plays the man responsible for letting apes take over the planet Earth opposite Freida Pinto and Andy Serkis and is probably best known for his work in the (it's funny to say this) "old" Spider-Man films. He'll next be seen cutting off his arm for Academy Award winning director Danny Boyle in 127 Hours.
All we currently know about the Alien prequel is that it'll be set 35 years before the original 1979 film and will
(pictured above) that is encountered before Kane is implanted by the Face Hugger. Basically, the film will aim to explain where the aliens came from and how they ended up on LV-426 where they finally meet their match in Ellen Ripley. The lead character is that of "a female Colonial Marine general" and in addition to Portman,
is also on Scott's short list. Hathaway could too be up for the role, but that's purely speculation.
Actors being in talks for something never really means much, but, any information on a new Alien movie is worth digesting and sitting with for a few minutes. Any thoughts on this pair and how they would fit into the Alien franchise?