First Official Photos: Viggo Mortensen, Michael Fassbender And Keira Knightley In 'The Dangerous Method'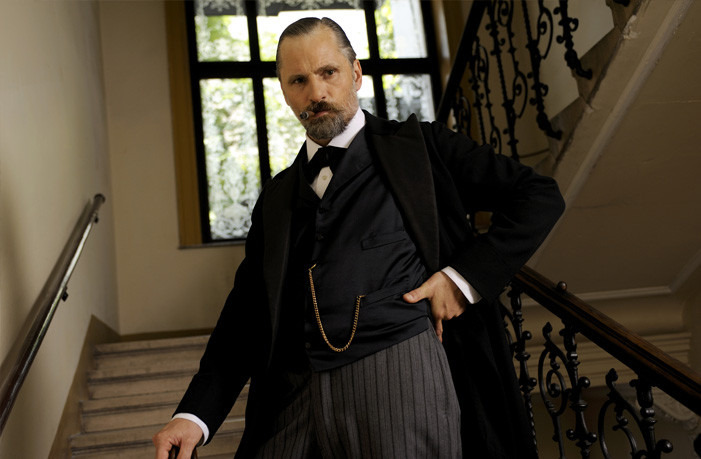 After some behind the scenes photos and video, here's your first look at Keira Knightley, Viggo Mortensen and Michael Fassbender in David Cronenberg's The Dangerous Method. (Once called A Dangerous Method, but video of the director talking about the film suggests the definite article is now used.) The film is based on Christopher Hampton's play The Talking Cure, and concerns the early friendship and working relationship between Carl Jung (Michael Fassbender) and Sigmund Freud (Viggo Mortensen), and the young woman (Keira Knightley) that came between them.
Check out two more shots after the break.
For a little ore detail on the film, let's go to Mr. Cronenberg. In the second video linked above, David Cronenberg talks about how the character played by Keira Knightley was the catalyst for his interest in adapting the play. Of her place in the story and history, he said,
It's interesting how certain madnesses disappear. There was a disease called hysteria from the Greek word that means womb. It was considered mainly a woman's disease. Women would get hysterical, and they would fall down and faint and they would mumble and they would talk. Nobody talks about this disease anymore. It's interesting how some diseases are culturally created rather than physiologically. Really [Sabina] was a passionate, intelligent, very creative woman who didn't have an outlet for those things so it manifested itself as madness until she met Carl Jung. She was 18, he was about 29. They had an affair, she become his mistress. So it's the story of the three of them particularly and it's a really fascinating story.
The Dangerous Method is in post-production, and is already one of my most anticipated films of 2011. With David Cronenberg directing that cast and a story that hints vaguely at the director's sublime film Dead Ringers, how could I not be eager to see it? These images only enhance the sense of anticipation.
Click each image to enlarge slightly. [SoyPelopo82, via The Playlist]