Crazy Rumor: Steven Spielberg To Make Bee Gees Biopic?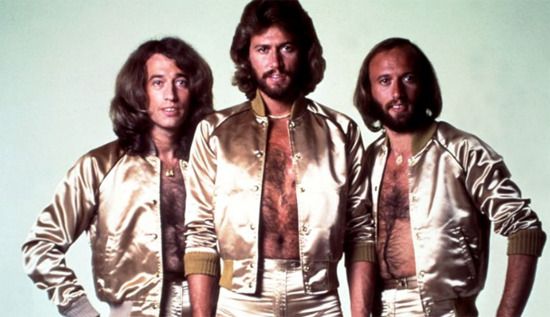 I'm not sure exactly how some rumors get from point A to point B. We've heard before that there might be a film about disco superstars The Bee Gees, the band who sold millions of records in the '70s and provided the soundtrack to Saturday Night Fever in 1977. That was the biggest-selling soundtrack for fifteen years, until eclipsed by Whitney Houston and The Bodyguard. And now there's a rumor that the film will be produced or directed by Steven Spielberg. But where did that come from?
The Daily Mail quotes Robin Gibb of the Bee Gees:
The movie is going to be done by some very important people. It will be our life story. Barry and I will be involved in the technical side... I'd like our original recordings to be used because it's very hard to emulate them.
That's all the paper has as far as direct quotes, but somehow it got from 'some very important people' to 'Steven Spielberg is making the film.' There's no specification on whether he might produce or direct, likely because the entire thing is false.
The story of the Bee Gees (Barry, Robin and Maurice Gibb) could easily fill out a film: the group started in the late '60s and had early success as a harmonizing pop act and then in the mid to late '70s as the most popular band of the disco era, thanks in part to Barry Gibb's distinctive falsetto. Disco was already half dead when the Saturday Night Fever soundtrack hit, and the genre was revived by the album's staggering success. Unlike a lot of other acts, the group wrote all their own hits, from the early single 'To Love Somebody,' which was covered by dozens of artists, through their biggest tunes of the disco era. The band continued going for decades after disco really died, but never with the same level of success. Maurice Gibb died suddenly in 2003, but the remaining brothers have recently said they would reform and perform again.