Plot Details Surface For Sam Raimi's 'Oz The Great And Powerful'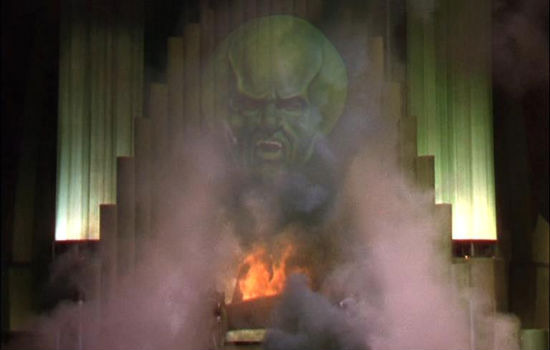 In all the times I've seen The Wizard of Oz, I've never one wondered how the wizard got there. Maybe that's just me. Either way, the back story of the man behind the curtain who solves Dorothy and her friend's problems is the topic of Oz the Great and Powerful, which will be director Sam Raimi's next project. Besides the fact that Robert Downey Jr. is rumored to be attached to play the lead, we haven't heard much about the film except that it's a prequel to the 1939 classic and will be about the wizard coming to Oz. Well, a more detailed plot description has found its way online and I'm confident in saying this is not what anyone had in mind. Read it after the jump.
Pajiba's source The Hollywood Cog describes the plot follows. Be aware, if this is accurate, it is definitely considered SPOILERS.
The Wizard — a snake-oil salesman posing as a magician — enters Oz via a hot-air balloon, which he uses to escape an angry husband who has found out that Oz slept with his wife. There, Oz — a fast-talking huckster who wears a velveteen frock coat  — falls in love with Glinda (the Good Witch), and the two combine forces to Fight the Evil Witches Evanora and Theodora. Theodora starts out as a good witch, but after Oz jilts her sexual advances, Evanora — the truly evil witch — convinces Theodora to become an evil witch with her and help her to rule all of Oz. Both Evanora and Theodora are described as incredibly attractive, seductive women, and Theodora likes to wear black, thigh-high boots.
Being as it's the prequel to one of, if not the, most revered family films of all time, I'm frankly surprised to hear about all the sex that's potentially in the movie. Not that I'm offended by it, I'm just confused about how it's going to be marketed. If it's a darker take on the L. Frank Baum Oz books, that's cool, but pegging it to The Wizard of Oz seems like you are going a much broader audience.
However, that description of the the wizard, or Oz, whatever you want to call him, as a "fast-talking huckster" is still in line with what was previously reported about Mitchell Kapner's script, mainly that "the wizard is a charlatan who's part of a traveling circus but goes on a similar odyssey as Dorothy when he mysteriously lands in Oz." Maybe that story wasn't dark enough and the current rewrite by David Lindsay-Abaire is just to take the film deeper down the hole.
So, if you read all the way down here, you might as well give us your thoughts. What do you think about this sexualized version of The Wizard of Oz? To me, it sounds more like it's in Sam Mendes' wheel house, who was originally being looked at, rather than Sam Raimi. Still, Raimi has been known to surprise us with all types of different fare. Either way, this plot description has me totally baffled as to what this movie is going to be. Any thoughts?