Casting Bits: Robert De Niro Joins 'Buried' Director Rodrigo Cortes' 'Red Lights'; Mark Wahlberg Considering Lead In Seth MacFarlane's 'Teddy Bear'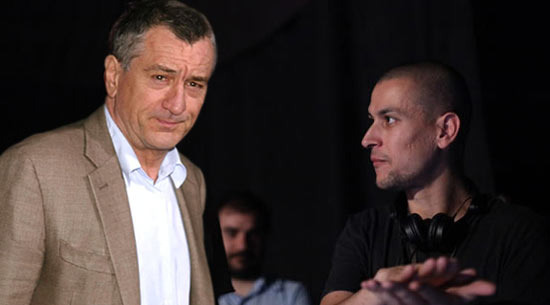 Buried proved to be a fascinating filmmaking exercise for Rodrigo Cortés, with the first-time English feature director (pictured above right) impressively overcoming the limitations inherent in the premise through sheer stylistic virtuosity. If that's what he can achieve with just a box, I can't wait to see what he can do with a film like Red Lights, his psychological thriller that previously cast Sigourney Weaver as "a para-psychologist who attempts to debunk a very reputable psychic who has just returned to the limelight after 30 years."
Opposite Weaver will be Robert De Niro, who's been attached to star as the world-renowned psychic who finds himself being investigated by Weaver and her assistant. According to Cortés, the film is about "about how the brain does not give a true picture of reality." Let's review: two great actors, a director with tons of a potential, and a deeply intriguing premise. If Red Lights hasn't already been on your radar, now's the time to start taking note. [Variety]
After the break, will Mark Wahlberg be getting a teddy bear?
Last time we talked about Family Guy creator Seth MacFarlane's hard-R comedy about a man and his teddy bear, the film was titled Ted, and it was pitched as a live-action and CGI hybrid with a $65 million price tag. Now we've learned some more details about the project, which has since been retitled Teddy Bear, and centers around a "33 year old man whose Teddy Bear comes to life and poses problems for him as an adult when it gets in the way of a relationship with his girlfriend." MacFarlane will voice the teddy bear, who's a partying, womanizing, video game-playing pot smoker. Other roles in the film include "a racist homosexual, a woman obsessed with talking about men shaving their a**holes, and a 'Jewish-looking' person who makes anti-Semitic remarks". Good God; that last sentence killed my interest fast.
Anyway, for those still reading: Apparently Mark Wahlberg is considering the lead role in the film. From the premise it seems like his character would be the 'straight-man' to MacFarlane's foul-mouthed cartoon bear, so I can see that being a sensible fit—unless of course he tries to tap into his comedic side like he did with The Other Guys, in which case the film could end up being even more annoying than it already would've been. [Pajiba]