Antonio Banderas, Mark Strong And Freida Pinto Cast In 'Black Gold'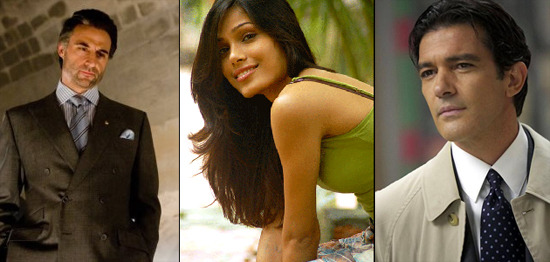 It's difficult to say whether Black Gold, which seeks to tell a tale of rival Arabic rulers during the Arab oil boom of the 1930s, will be any good. But the film, which will be directed by Jean-Jacques Annaud (Seven Years in Tibet) has an interesting cast: Antonio Banderas toplines, with Mark Strong, Freida Pinto (Slumdog Millionaire), and Tahar Rahim (A Prophet) all lined up to appear.
Tahar Rahim was magnificent in A Prophet, so that's reason enough to keep an eye on Black Gold. Beyond that, we don't know much about the script by Menno Meyjes, certainly not enough to make a call. (It eventually follows "the rise of a young, dynamic leader who unites the various tribes of the desert kingdoms.") Tarak Ben Ammar is producing and has wanted to make the film for almost 30 years. He optioned the Hans Ruesch book The Great Thirst in 1978 and has harbored dreams of making the film ever since.
And this cast... are Antonio Banderas and Freida Pinto meant to be playing Arab characters? That's interesting. I can guess that Mark Strong's performance in Body of Lies as a Jordanian security minister helped land him this role. But while this has financing from Warner Bros. and Universal, it is primarily an Arab-backed picture. So I'm intrigued that they've gone with this particular cast. But if you want to make a commercially viable picture with global appeal, hiring a crop of actors like this probably seems like the safest route. We'll likely find out more soon, as Black Gold starts shooting next week in Tunisia. [Deadline]