Casting Bits: Alice Eve And Luke Evans Join John Cusack In 'The Raven'; Philip Baker Hall Joins 'Mr. Popper's Penguins'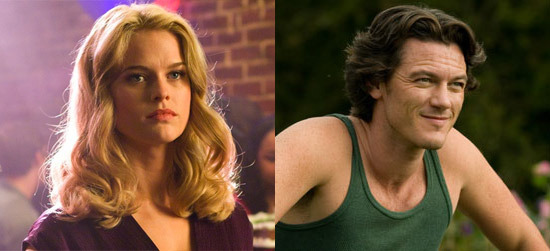 John Cusack will have company in The Raven, V For Vendetta director James McTeigue's fictionalized account of the final five "mysterious" days of Edgar Allan Poe's life, but Jeremy Renner won't be taking part. His schedule wouldn't allow it, sadly, as he's going to be off shooting the fourth Mission: Impossible. Stepping in for Renner is Luke Evans, a British actor who will fill the role of "a detective who partners with Poe (Cusack) to search for a serial killer who has kidnapped the author's fiance and has gone on a murders spree that mimics the author's work".
Evans is a newcomer to Hollywood, but he's had no trouble finding work. In a single year, he's been cast as one of the titular musketeers in Paul W.S. Anderson's 3D action-adventure adaptation of The Three Musketeers, as the thunder god Zeus in Tarsem's Immortals, and alongside Jason Statham in the London-set serial killer thriller Blitz. Best case scenario: he's an acting talent to be reckoned with, and filmmakers can't resist his talent. Worst case scenario: the studios have found their next Sam Worthington.
After the break, Edgar Allan Poe gets a fiance, and Jim Carrey gets some financial support.
Playing Poe's kidnapped fiance will be the lovely Alice Eve, who recently signed on to Buried screenwriter Chris Sparling's follow-up effort ATM after losing out on roles in X-Men: First Class and Captain America: The First Avenger. Good to see she's landing on her feet. [Heat Vision]
A loose adaptation of Mr. Popper's Penguins is in the works, and the cast is starting to come together. As you may recall, Jim Carrey is starring as Mr. Popper, and more recently, Carla Gugino joined as his wife. Now comes word that the supremely talented, underused Philip Baker Hall has been added to the cast, playing "a deep-pocketed, no-nonsense investor who agrees to finance the title character's wacky schemes".
Hall is best known for his work in the films of Paul Thomas Anderson, having taken prominent roles in Magnolia, Boogie Nights and Hard Eight. Adding him and Gugino to the cast doesn't guarantee a quality film, but it's at least a step in the right direction.
Mark Waters (Mean Girls) is directing this update of the story, which sees a high-powered New York businessman suddenly inheriting six penguins, causing his upscale life to be turned upside down. [The Wrap]