17 Minute Behind The Scenes Featurette On 'The Walking Dead'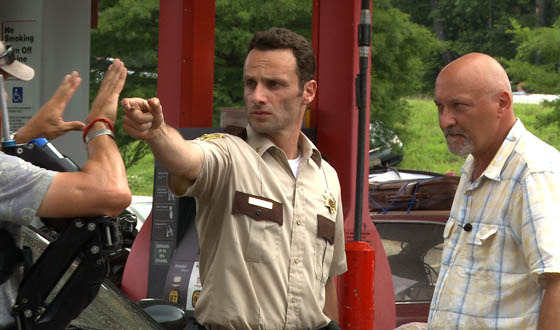 If you were already excited for the brand new AMC show The Walking Dead, then this 17 minutes behind the scenes featurette might make your head explode. The show, executive produced by Frank Darabont, is based on a comic book series by Robert Kirkman about how a group of humans survive after a zombie apocalypse. The idea of an hour long, serious zombie show on cable is exciting on its own. Add Darabont to the mix and things get a bit cooler. But after you watch this video which discusses everything from the effects, production design, casting, screenwriting, location shooting and so much more? You'll be salivating in anticipation of the 10 p.m. premiere on Halloween night. Hit the jump to check out the video about the show one person calls "the Twilight Zone of our generation."
There are a whole bunch of highlights and things to look for in the video, which was produced by AMC. Here are just a few.
Writer/Director/Executive Producer Frank Darabont talks about how he was influenced by the films of George Romero
We get to see a glimpse of Darabont's home, which is filled with toys (Kirkland calls him a "Horror Geek")
Producer Gale Anne Hurd talks about how "The Walking Dead" are actually the humans
Darabont found the comic book randomly while browsing a comic book shop in Burbank, CA
Kirkland says he loves zombie movies but always wondered what happened next. That's what his comic and show is about.
The zombies are "the frosting on the cake" of a character driven story
AMC has had no problems with a lot of extremely violent content
All of the actors are shown next to their comic book counterparts and they all look alike.
Being as it's the home of perennial Emmy winner Mad Men and fan favorite Breaking Bad, AMC seems like an almost too-good-to-be true home for this show. Do you think the show has legs? Or are they likely to get eaten off like that zombie in the beginning of the video? Gross. But awesome.
For more information on The Walking Dead follow them on Twitter or Facebook.