VOTD: Wes Anderson/Roman Coppola Directed Stella Artois Commercial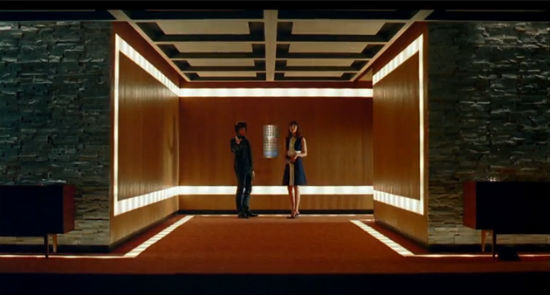 It's the eternal debate for all geeks: beer or sex? That's the question posed in a clever commercial for Stella Artois beer that premiered this weekend. A young French man brings a young lady back to his home, which is set up like something out of a James Bond movie. She starts to play with some of his remote controls and, well, you should watch the one minutes commercial to find out. What makes this eye catching spot even cooler, though, is that it was co-directed by Wes Anderson and Roman Coppola. Check it out after the break.
AdAge reports that the spot is part of a brand new ad campaign by Anheuser-Busch InBev, which owns the Belgium beer in question. They see the demographic for Stella as "'unisex' consumers who are well-educated, have slightly higher income and value ambition" and they believe Anderson and Coppola make films aimed at those people too. Mother, the ad agency who came up with the concept, were the ones who got the duo involved. Gustavo Sousa, the global creative director at Mother, released the following statement.
We were really happy to have Wes and Roman on board. We wanted to set this brand and this film in a 1960s French film world and there's a lot of that influence in Wes' work. Also, Roman is a gadgets fanatic, so it was truly the best combination of talent to direct this commercial.
So what do you guys think? Does this commercial make you want to buy Stella Artois? And which of Anderson or Coppola's movies does it most remind you of?