Dreamworks Announces Plans For How To Train Your Dragon Sequel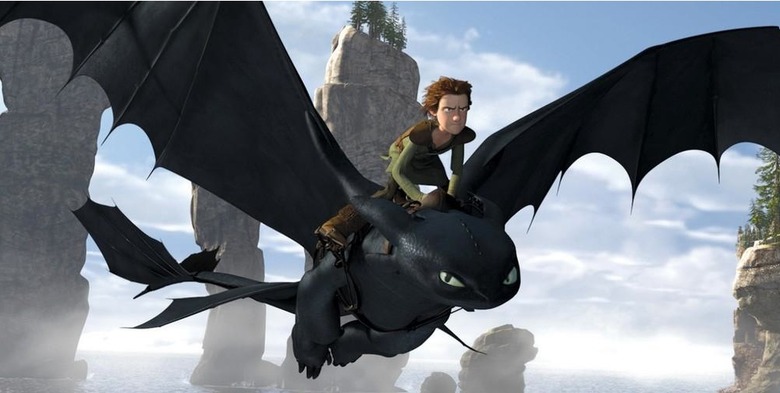 When we first learned a few months ago that How To Train Your Dragon would be getting a sequel (out in 2013), there were a lot of details still up in the air. Would the original cast return? What of the talented filmmakers of the original, Chris Sanders and Dean DeBlois? Would they be coming back too? Would the film even be in 3D?
Today, Dreamworks revealed details about what would become of the next film in its How to Train Your Dragon franchise. Hit the jump to find out more.
In a press release, Dreamworks announced that all the voice cast will be returning: Jay Baruchel, Craig Ferguson, America Ferrera, Jonah Hill, Christopher Mintz-Plasse, TJ Miller, and Kristen Wiig. The sequel will be made under the "guidance" of Dean DeBlois, Chris Sanders, and Bonnie Arnold, although this time around, DeBlois will be writing the script and flying solo in the director's chair. Sanders is presumably busy working on the Dreamworks Animation film The Croods, which is due for release in March 2012 (Sanders will receive an Executive Producer credit on the film). All this is encouraging news and shows that Dreamworks doesn't want to mess with the formula that allowed the first film to become one of this year's box office success stories.
The press release also confirms that the new film will be in 3-D. While I'm still very wary of how Dreamworks might run this property into the ground, the thought of being able to sit in a theater and witness more spectacular dragon-infused IMAX action scenes and flying sequences gets me all hot and bothered. I'll be there on opening night (or earlier) most likely.
The DVD/Blu-ray of How to Train Your Dragon will be released on October 15, 2010. Below, my favorite tracks from the film's score to get you in the mood for it: