Single-Panel Comic Strip 'The Family Circus' To Become Movie Franchise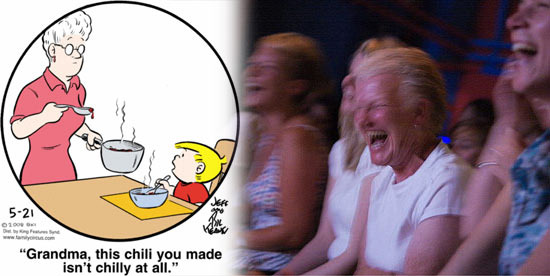 You didn't think Marmaduke would get all the glory, did you?
That's right: the most widely syndicated cartoon panel in the world is about to make its live-action big screen debut. Moreover, it's being envisioned as a franchise. 20th Century Fox and Walden Media got the rights to Bil Keane's comic, which was introduced in the '60s and has since been released in compilations that have sold over thirteen million copies worldwide.
Deadline says Fox and Walden competed for the rights with several other studios, but beat them out with a seven figure deal against their six figures. Bob Hilgenberg and Rob Muir, co-writers on Tinker Bell and the Great Fairy Rescue, have been hired to write the screenplay. Producing the film are John Baldecchi (Ultraviolet, Cutthroat Island) and Stacy Maes (Jumper).
There isn't much to the comic, either in terms of character or story, which means this is almost certainly an appeal to brand name recognition. Without The Family Circus in the title—and a reduced emphasis on religion and dotted lines—this movie could just as easily be another Cheaper by the Dozen or Yours, Mine and Ours, much like Marmaduke was just another talking dog movie.
Baldecchi deserves points for persistence though; he spent two years calling and leaving messages in an attempt to persuade Bil Keane and his son (who inks and colors the comic) to make a movie, but they were resistant to the idea, so he never had any of his calls returned. One of those calls finally got through though, and he was able to convince them to move forward with the project. Apparently this is one brand Baldecchi didn't intend to let slip by him.