J.B. Smoove And Max Records Cast In David Gordon Green's 'The Sitter'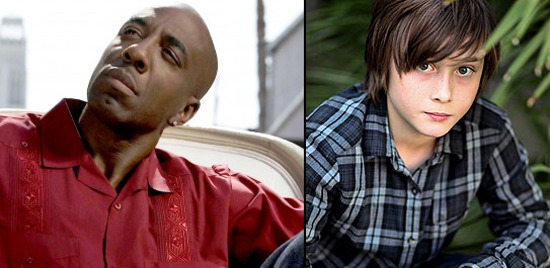 Earlier this year Jonah Hill agreed to star in The Sitter, a comedy in which Hill will play a college dropout who gets into more than he bargained for (like drug deals and car chases) when he agrees to babaysit the children of a family friend.
Now J.B. Smoove (Curb Your Enthusiasm), Max Records (Where the Wild Things Are) and new child actor Kevin Hernandez have all signed on.
The Wrap reports on the casting, saying that Records, Hernandez and Landry Bender will play the kids, while Smoove will play one of the drug dealers who get caught up in the film's events. This will be one of the first projects for Max Records since the release of Where the Wild Things Are; I loved the young actor in that film, so I'll be very interested to see his work here.
(He's also apparently in Ruairi Robinson's BlinkyTM, about which I can find very little info. If you know anything, drop us a line.)
The R-rated comedy will be directed by David Gordon Green, who stepped in when the director's chair was vacated by The Wackness director Jonathan Levine. The script is by Brian Gatewood and Alessandro Tanaka.
Note that this isn't the same project as the Sam Raimi-produced adaptation of R.L Stine's book The Sitter, which will hit theaters as The Au Pair.
Previously:
Last year I had a chance to read an early draft I read was pretty great. The Adventures in Babysitting comparison is good, as it is basically an R-rated version of that film. For example, Noah drags the kids along while he stops at a drugdealer's house to pick up some coke for a girl he is trying to get with. One of the boys ends up stealing something valuable from the drug dealer's house which sets up a chain of events which just keep snowballing in scale and hilarity.
The spec screenplay by Brian Gatewood and Alessandro Tanaka, a duo who made a name for themselves with a college comedy script titled Who the Hell is Sanjay Patel, which landed on the 2006 Blacklist (a list of the best unproduced screenplays in Hollywood that year) and is set up at Universal. The Sitter was the subject of a heated bidding war and was snapped up by Fox Atomic in January 2009.