First Look: Michelle Williams As Marilyn Monroe; Julia Ormond And Dougray Scott Join 'My Week With Marilyn'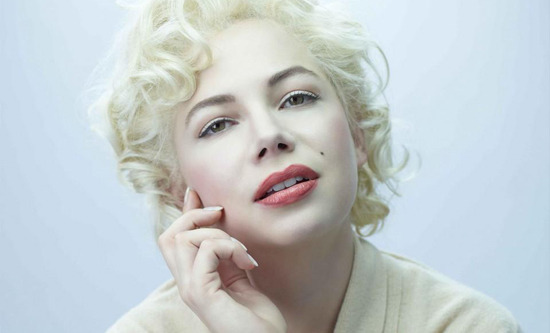 Cameras began to roll this week on My Week With Marilyn, the film that adapts the diaries of Colin Clark, who showed Marilyn Monroe around London while she worked on the film The Princess and the Showgirl. Now we've got the first image of Michelle Williams playing Marilyn Monroe in the film, and word that Julia Ormond and Dougray Scott have been added to the cast.
The Weinstein Company sent out a press release with the photo and additional cast info. A larger version of the photo is below, along with extra synopsis info from TWC. Simon Curtis directs Eddie Redmayne as Colin Clark, who was an assistant to Sir Laurence Olivier (Kenneth Branagh) in 1956 when the actor appeared in The Princess and the Showgirl with Marilyn Monroe.
I'm not quite sold based on this photo — I think Michelle Williams is a wonderful actress, but there's a quality that Marilyn Monroe had that isn't captured in this image. But I'll wait to see footage before drawing any serious conclusions.
From the TWC press release:
In the early summer of 1956, 23 year-old Colin Clark, just down from Oxford and determined to make his way in the film business, worked as a lowly assistant on the set of The Prince and the Showgirl, the film that famously united Sir Laurence Olivier and Marilyn Monroe, who was also on honeymoon with her new husband, the playwright Arthur Miller.
Nearly 40 years on, his diary account "The Prince, the Showgirl and Me" was published, but one week was missing and this was published some years later as "My Week with Marilyn" – this is the story of that week. When Arthur Miller leaves England, the coast is clear for Colin to introduce Marilyn to some of the pleasures of British life; an idyllic week in which he escorted a Monroe desperate to get away from her retinue of Hollywood hangers-on and the pressures of work.
Marilyn Monroe is played by the Academy Award nominated Michelle Williams and Tony award winning Eddie Redmayne stars as Colin Clark. Kenneth Branagh plays Sir Laurence Olivier with Judi Dench as Dame Sybil Thorndike. They are joined by Julia Ormond as Vivien Leigh, Dougray Scott as Arthur Miller, Zoe Wanamaker, Emma Watson, Toby Jones, Philip Jackson, Geraldine Somerville, Derek Jacobi, Simon Russell Beale and Dominic Cooper.